Probe offers entirely modular design.
Press Release Summary: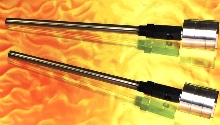 Advanced Atmosphere Carbon Controller XR probe (AACC-XR) features turbulent flow tip for high accuracy, even in high-flow environments. It is available in standard insertion lengths to 30 in., and with K, R, and S integral thermocouples. Full sheath is offered in RA330 low nickel alloy (for operation to 2200 deg F) or ceramic. AACC-XR is compatible with SIRO, flat slipcast, or rounded slipcast substrate technologies.
---
Original Press Release:
New Probe Technology Offers 3 (or 4!) Important "Firsts"

- true user rebuild-ability

- operating range to 2200°F

- no "false high" carbon readings

Background: Thermal shock failure, slow recovery after burn-off and short service life are the three most common complaints regarding probes used in heat treating. Now, Marathon Sensors, Inc., a leader in sensor technology for more than 20 years, has released an advanced carbon control probe that solves these three specific problems.

Cincinnati, OH. Marathon Sensors Inc. has released the Advanced Atmosphere Carbon Controller XR probe ("AACC-XR"). It is the first probe with an entirely modular design, a feature that is significant to users throughout the life of the probe, because it allows quick, inexpensive refurbishment on-site, and replacement of only those specific parts which are worn.

Further, Marathon's AACC-XR is manufactured using highly ruggedized components, so the need for refurbishment is infrequent. AACC-XR was engineered to provide the highest lifetime value of any probe on the market in the US or Europe.

Product features include a patented turbulent flow tip for highest accuracy, even in high-flow environments. It is available in standard insertion lengths to 30", and with K, R and S integral thermocouples.

Full sheath or focused burn-off is available; full sheath is available in RA330, proprietary low-nickel alloy (for operation up to 2200 deg F) or ceramic. Its machined 6061 aluminum alloy head has the longest performance rating of any option on the market.

A 1.05" Schedule 40 sheath eliminates the fourth most common problem - probe sag, so there's no need to rotate the probe in order to prevent failure. The AACC-XR is compatible with all major sensor substrate technologies, including SIRO, flat slipcast or rounded slipcast, so it can be optimized for the application.

For more information, contact Marathon Sensors Inc. 3100 E. Kemper Rd. Cincinnati, OH 45241 (800) 547-1055. http://www. marathonsensors.com. ISO 9001:2000 Certified

Marketing Services Inc.; 105 Old St.; Monroe, OH 45050; (513) 539-0008; Fax (513) 539-7108
More from Electronic Components & Devices