Pro Air and Hobbyair Supplied Air Respirators Provide Cool, Fresh Air All Day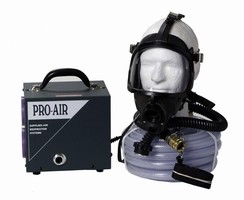 Our Purpose is Quality and Service.
Protect your lungs - you only get one set!

Axis Products, Inc. manufactures a complete line of Supplied Air Respirators and HVLP Paint Sprayers. Located in Northwest Illinois, all of our systems, masks and spray guns are produced in the United States.

Our unique, patented method of delivering fresh air gives you abundant cool air all day long. Exceptional quality and price have caused our popularity to rapidly spread. You will find our respirators in many industries including spray foam application, truck bedliners, welding, sandblasting, porcelain tub refinishing, aviation, automotive, woodworking and on and on.

Why do I need a Supplied Air Respirator?
The simple answer to this question is because it is the most effective way to protect your lungs from exposure to dangerous elements that can drastically reduce or even prevent your lungs' ability to function.

Diseases such as isocyanate poisoning, silicosis, emphysema, and even cancer can be directly attributed to breathing air that is contaminated with toxic vapors and mists.

Won't a charcoal filtered facemask work just as well?
It depends on what type of contaminant you are exposing your lungs to and how frequently you are replacing the filters. When isocyantes are present - you must have a supplied air respirator along with other clothing to protect skin, eyes and breathing.

Once you start using the Pro Air or Hobbyair respirator system, you will find there is no reason to substitute another type of respirator when you are working on any project that conflicts with your breathing of fresh air.

When you feel the cool fresh air flowing into your lungs provided by Pro Air and Hobbyair systems, we feel confident that you will agree with thousands of satisfied users that your purchase will be one of the best investments that you've ever made.

Pro Air and Hobbyair fresh air respirator systems were designed to keep your lungs safe and healthy - why take a chance with anything less?


More from Cleaning Products & Equipment