Printed RFID Tag provides secure, dynamic traceability.
Press Release Summary: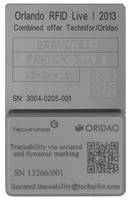 Used for tracing parts throughout their life cycle, Augmented Traceability™ supports both direct part marking and marking on identification plate. RFID chip can be embedded in plate or applied directly onto part. Data stored on tag — part production, supply chain path, and maintenance — is digitally signed by tag itself, preventing any corruption/modification. RFID system features published cryptographic protocol, and tags are unclonable and compatible with EPC UHF Gen2 standard.
---
Original Press Release:

Augmented TraceabilityTM: the World´s First Uncompromised Secured Traceability



Technifor, Gravotech Group, and ORIDAO are launching the first universal and secure traceability solution. It is the innovative merger of part marking and secure RFID, allowing for the uncompromised tracing of parts throughout their life cycle. This cutting-edge technology is suited for sensitive maintenance processes in the aeronautics, defense, energy and oilfield sectors.Chip including security features



Gravotech, the world leader in permanent marking, and ORIDAO, a high-range specialist in secure RFID, have developed a solution combining high-quality Part Marking and RFID authentication. The objective is to provide secured and dynamic traceability: Augmented TraceabilityTM. Concerning hardware, both Direct Part Marking and marking on the identification plate are possible. The RFID chip can be embedded in the plate or applied directly unto the part. "This technology allows aerospace, oilfield and energy operators to identify and trace parts with complete security throughout their life cycle," explains Franck Rivet, vice president of Gravotech.



One of a kind solution

First, this unique design is based on a secure RFID Anti-Counterfeiting and Lifecycle Tracking system; Augmented TraceabilityTM data stored on the Tag - part production, supply chain path and maintenance while in service - is digitally signed by the Tag itself, preventing any corruption or modification. This is in sharp contrast to other traceability systems on the market, which according to Nicolas Reffé, CEO of ORIDAO, "can be easily corrupted, cannot provide proof of integrity for critical operating data like proper maintenance or part status, and lose their security properties in degraded mode, as soon as network connection is lost." The patented RFID system developed by ORIDAO features a published cryptographic protocol, validated by independent academic and institutional third parties. The Tags are unclonable and fully compatible with the EPC UHF Gen2 standard, widely deployed for industrial traceability, making the provided solution interoperable with existing EPC UHF Gen2 infrastructures. Optionally, the part lifecycle authentication can be performed online by any user, through a trusted authority web service.



Secondly, it combines two complementary technologies: part marking and RFID. RFID TAG contains the marking data, but it also offers dynamic Augmented TraceabilityTM. If marking is a regulation obligation, RFID is a must in critical processes: it enables automatic and secured collection of data and easy control at every stage. It simplifies the tracking and management of assets and equipment, on-line or off-line. Since it is much more optimized, improved maintenance procedures can be implemented, downtimes are reduced, and it offers a quick return on investment.



Benefits of this combined solution are redundancy and full consistency, which reduces costs during implementation. RFID Tag offers complete interoperability with RFID EPC UHF Gen 2 standard. Gravotech and Oridao have the in-depth knowledge and expertise to carry out all aspects of their Augmented TraceabilityTM solutions integration within customer processes, including design, manufacturing and supply of RFID integrated Circuits, hardened Tags, RFID readers, marking consumable and marking stations, consulting and system integration.



Finally, this quick to implement and easy to use solution is supported by Gravotech Group, experts in marking, identification and safety. "RFID solution suppliers are most of the time local companies. Gravotech is able to directly support large-scale international projects and can manage major integration programs across the globe thanks to a unique subsidiary network," states Franck Rivet, vice president of Gravotech. Close to its customers, the group has 3 engineering centers in Asia, Europe and the USA and experienced teams in more than 30 countries on 5 continents.



Portable solution for part identification

Example of tag combining high-quality part marking and RFID authentication.



Technifor is a registered trademark of GravoTech Marking, a company of Gravotech Group.



www.technifor.us



TECHNIFOR Inc.

9800-J Southern Pine Boulevard

Charlotte,NC 28273 - U.S.A.

Susan DOYLE

Phone: 704 525 5230

sdoyle@usa.technifor.com



TECHNIFOR

466, Rue des Mercières

69140 RILLIEUX LA PAPE

FRANCE

Mounira EL-YACOUBI

Phone: + 33 4 72 88 00 27

melyacoubi@technifor.com

More from Controls & Controllers