Printed Polymer Strain Gage utilizes paste technology.
Press Release Summary: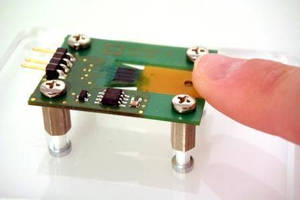 Based on pressure-sensitive sensor paste printed onto PCB, P-DMS Polymer Strain Gage is used for measuring pressure in industrial, medical, automotive, military, and consumer electronics applications. Direct printing on application control board eliminates failure points of wire failure and corrosion in addition to negating electrical sparking as key contacts come together. Requiring no moving parts, product is available in customized sizes and shapes.
---
Original Press Release:

Hoffmann + Krippner Announces New P-DMS Printed Polymer Strain Gage - No More Wires



Designed for industrial, medical, automotive, military and consumer electronics applications



Hoffmann + Krippner is the industry leader for printed electronics



Alpharetta, GA



Hoffmann + Krippner, Inc. today announced that their new P-DMS Polymer Strain Gage is now shipping. This compact and cost-effective solution for measuring pressure is based on Hoffmann + Krippner's industry leading and patented sensor paste technology printed onto a PCB board.



Extremely sensitive to slight pressures, a small deformation to the paste generates a change of its electrical resistance generating an analog signal to enable measurement, input and control to a wide range of applications.  Requiring no moving parts, this simple device can be very accurate and long lasting. As the strain gage can be directly printed on the application's control board, it does not need to be connected by wires. This enables compact and affordable designs, as well as eliminating the failure points of wire failure and corrosion.  It also eliminates electrical sparking as the key contacts come together.



Interesting applications include musical instruments such as a piano keys and electric guitars, control switches for DJ audio mixing gear, inside shoes to measure pressure distribution as someone stands or walks, for use in "silent" keyboards (no key clacking), inventory control for grocery store shelves and vending machines, automotive touch screens and function activators, as well as hazardous area applications where a tiny spark from keys closing an electrical circuit could set off a fire or an explosion.



The new P-DMS Strain Gage is available in wide variety of customized sizes and shapes.



Design engineers and developers can control costs and shorten development times by working directly with Hoffmann + Krippner to integrate the gage into early stages of development. In addition, Hoffmann + Krippner offers in-house development, design and manufacturing expertise to customize the gage design and specifications to customer requirements.



For more information on this new printed polymer strain gage technology, as well as datasheets available for download, please visit http://www.hoffmann-krippner.com/polymer-strain-gage.html



Company Background

The Hoffmann + Krippner Group, with sales offices around the globe, specializes in input and output systems as well as sensors. Headquartered in Germany, Hoffmann + Krippner has manufactured German-engineered, high quality products for over 35 years. As the North American member of the Group, Hoffmann + Krippner, Inc. delivers these engineering, design and manufacturing services to the US and Canadian market.



As of 2014, Hoffmann + Krippner, Inc. has partnered with Altmann GmbH (manufacturer of high-precision potentiometers), Inelta Sensorsysteme GmbH & Co. KG (manufacturer of LVDT and load cells), and PIL Sensoren GmbH (manufacturer of ultrasonic sensors).



Sales Contact:

Hoffmann+Krippner, Inc

2119 Quail Meadow Lane

Frisco, TX 75034

Phone: 770- 487-1950

Fax: 800-838-1201

Email: sales@hoffmann-krippner.com



Mark Shapiro – PR for Hoffmann + Krippner

SRS Tech PR - "Media Relations for the Connected World"

mshapiro@srs-techpr.com

+ 1 619 249 7742

Twitter - @SRSTechPR

http://www.linkedin.com/in/markrshapiro/

LinkedIN articles https://www.linkedin.com/today/author/475028

Google Plus - https://plus.google.com/+MarkShapiroSRSTech

More from Packaging Products & Equipment