Primer-Free Threaded Inserts resist galvanic corrosion.
Press Release Summary: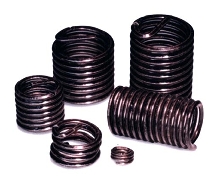 Stainless steel Heli-Coil inserts, manufactured to military and metric aerospace standards, eliminate need for applying zinc chromate primer. Resin-bonded, fluoropolymer coating creates barrier between insert and parent material. Coating also provides additional lubricity, easing installation in anodized and chemically treated holes and allowing for consistent prevailing torque with screw-lock inserts. Corrosion inhibitors resist fungus growth.
---
Original Press Release:
HELI-COIL PRIMER-FREE SCREW THREAD INSERTS FEATURE SPECIAL COATING TO RESIST GALVANIC CORROSION
- Eliminates need for zinc chromate primer; eases installation - Shelton, CT . Emhart Fastening Teknologies, a Black & Decker Company, introduces Heli-Coil Primer-Free Inserts, a new type of Heli-Coil Screw Thread Insert, designed for applications in aluminum and magnesium where galvanic corrosion between dissimilar metals is a concern These new inserts feature a special epoxy coating that resists galvanic corrosion, which eliminates the need for applying zinc chromate primer. This saves on the cost of pre-applied primer and associated application problems. Heli-Coil Primer-Free Inserts are manufactured to the appropriate Military or Metric Aerospace standards and coated with a unique resin-bonded fluoropolymer coating. This coating creates a barrier between the insert and the parent material to impede galvanic corrosion. Primer-Free Inserts are also manufactured with special corrosion inhibitors that resist fungus growth. In addition to corrosion protection, the insert's fluoropolymer coating also provides additional lubricity, which not only eases insert installation in anodized or chemically treated holes but also allows for a more consistent prevailing torque with Screw-Lock inserts. Other than standard drilling and STI tapping, no additional hole preparation or priming is required. Since galvanic corrosion is a major concern in most aerospace and naval applications, steps must be taken to ensure corrosion protection between dissimilar metals. The current method calls for the use of liquid zinc chromate primer as a barrier between the parent material and the Heli-Coil Stainless Steel Inserts. The primer material is supplied in accordance with Federal Specification TT-P-1757. Although the primer material provides the appropriate corrosion protection, the application procedures can create additional assembly and clean up problems. The current Federal Specification recommends that the liquid zinc chromate should be to be applied "sparingly" to the tapped hole and that the insert should be installed while the primer is still wet. The overall process is messy, slow, and very labor intensive. Since the term "sparingly" is highly subjective, it provides little or no control over the quantity of primer applied. If insufficient primer is used, the corrosion protection can be compromised. Too much primer can clog tools and necessitate frequent cleaning. Excessive primer can also cause Screw-Lock Inserts to exhibit high torque characteristics if the primer hardens behind the grip coil and the tapped hole. If the situation becomes severe, fastener breakage is possible. Heli-Coil Primer-Free Inserts have undergone extensive salt fog testing per ASTM B-1 17 for both through hole and blind hole applications. Both internal and independent tests were conducted using aluminum and magnesium test blocks. In all tests, the use of Primer-Free Inserts has proven to be at least equally effective, and in most cases, more effective in the prevention of galvanic corrosion than the application of liquid zinc chromate primer. Ed note: Complete test criteria, procedures, and results are available from Emhart. Please contact: Tony Barolin -tbarolin@barolin-spencer.com Heli-Coil Primer Free Screw Thread Inserts have a black appearance and are available in all Heli-Coil Insert sizes. They are currently being specified and used in place of zinc chromate primers by many prime aerospace contractors for jet engine fuel controls, aircraft environmental controls, and other aircraft and aerospace/defense systems. Emhart Fastening Teknologies manufactures and markets Heli-Coil Screw Thread Inserts for aerospace, defense, marine, automotive, and industrial applications. Heli-Coil Inserts are designed to protect and strengthen tapped screw threads in any material and are used as original equipment and for maintenance repair and overhaul operations. Heli-Coil is the industry pioneer and a world leader in screw thread insert technology. Heli-Coil Screw Thread Inserts and Thread Repair products are used extensively by industry in original equipment manufacturing and service. Emhart Fastening Teknologies, a Black & Decker Company, is headquarted in Shelton, CT. Emhart operates 22 facilities in 18 countries and employs over 3,000 people. The company also maintains R&D facilities in North America, Europe and Asia. For more information, contact: John Botelle, Application Engineering Manager, Emhart Fastening Teknologies, 50 Shelton Technologies Center, Shelton, CT 06484, (203) 830-3238, john.botelle@bdk.com www.emhart.com
More from Agricultural & Farming Products