Pressure Washers are suited for indoor cleaning.
Press Release Summary: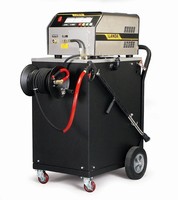 EHW hot water pressure washers operate on 460 V, 3-phase electrical power and are available with 3.5-4.2 gpm cleaning power and 2,000-3,000 psi pressure. Water is heated in submerged stainless steel coil and released via spring-loaded, insulated trigger gun. Oil layer coats water to retain heat and prevent evaporation. To minimize fatigue and stress on frame, motor and pump are mounted on power platform resting on 4 vibration isolators.
---
Original Press Release:

Landa Introduces New Low-Noise, All-Electric Hot Water Pressure Washer



Landa, North America's largest manufacturer of industrial pressure washers, has introduced a new all-electric hot water pressure washer ideal for indoor cleaning.
The EHW creates instant hot water spray with the pull of the trigger and does so without an open flame or hazardous fumes typically associated with hot water pressure washers most of which heat with combustible fuels. The EHW also runs so quietly it can be installed inside a closet or under a stairway.

There are two EHW models with cleaning power ranging from 3.5 to 4.2 GPM (gallons per minute) and from 2,000 to 3,000 PSI (pounds per square inch) of pressure. Both models operate on electrical power of 460-volt, 3-phase.

The water is heated in a stainless steel coil submerged in a tank containing a special water solution designed to produce highly efficient heat transfer. For instance, a layer of oil rests on the surface of the water solution for optimum retention of heat and also to prevent evaporation.

The EHW features the Landa industrial, high-pressure pump, which has been engineered to deliver the same output as comparable pumps but at 10% fewer RPM, thus extending the life of the high-pressure pump. It's backed by a 7-year warranty.

The pump is housed in a stainless steel cabinet and is connected to an industrial-strength motor via a rugged assembly consisting of two V-cogged belts and cast-iron pulleys for years of reliability. The belts are tightened using an innovative two-bolt pulley adjustment system.

Other innovations include:
o Motor and pump are mounted on a power platform resting on four vibration isolators to minimize fatigue and stress on the frame;
o Automatic start/stop which allows the unit to be turned on with the pull of the trigger for operator convenience and protection;
o Spring-loaded, insulated trigger gun with variable pressure wand for remote operation of the spray, plus remote application of the soap;
o Detergent injection system.

Both EHW models are certified to rigid UL-1776 safety standards.

Landa has been a leader in industrial pressure washers since 1969 and provides a broad range of cleaning solutions including automatic aqueous parts washers, parts and accessories, and detergents formulated for use in pressure washers.

For more information, contact Crismon Lewis at 1-800-547-8672, Ext. 175.


More from Computer Hardware & Peripherals