Pressure Washers are operated by wireless remote control.
Press Release Summary: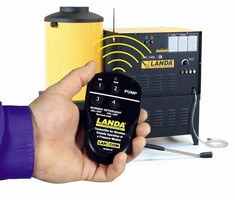 VHG hot water pressure washers include LanCom remote control device that can be used to turn them on or off, ignite burner to create hot water, or switch from clear rinse to soapy wash water from up to 300 ft line of sight. Electrically powered, 24 x 53 in. units have flow rate of 2.5-8 gpm and spray pressure of 1,000-3,000 psi, and are heated by natural gas or liquid propane. Heat is retained in leak-free, cold-rolled, ½ in. Schedule 80 steel pipe coils.
---
Original Press Release:
Landa Introduces Wireless Remote Operation of Pressure Washers
Landa, North America's largest manufacturer of industrial pressure washers, has introduced the LanCom, a revolutionary approach to activating high-pressure cleaning equipment with ultimate flexibility. Using a hand device no larger than a TV remote control an operator can turn the pressure washer on or off, ignite the burner to create hot water, or switch from clear rinse water to soapy wash water simply by pushing a button. Moreover, the operator can be as far away as 300 feet line of sight to activate the main pressure washer using the wireless remote device. The LanCom offers several benefits not available before in wash facilities: o The operator has ultimate flexibility to move about, such as up on scaffolding or a ladder, without being tethered to a fixed electrical remote station; o Cost for remote operation is reduced dramatically by not having to run pipe and hard wire electrical connections to a remote station; o Time, labor and energy are reduced because the operator isn't forced to walk back to a remote station or the main pressure washer to turn off the pump, burner or detergent. The LanCom is being introduced on Landa's VHG line of hot water pressure washers, but will soon be integrated into other models of pressure washers. The VHG line has 21 models with a flow rate of 2.5 to 8 GPM and spray pressure of 1000 to 3000 PSI. All models are powered by electricity-with many configurations including 120V, 208V, 230V and 460V-and are heated by natural gas or LP (propane). The VHG, with its sleek cabinet design, is well known for its compact footprint, taking up a floor space of only 24 by 53 inches. The extra-large models are 35 by 66 inches, yet are still very compact in comparison to comparable stationary hot water models. The VHG has quickly become a popular model in Landa's broad line with its industrial-grade electric motor coupled by an extra-strong, dual-belt pulley to a tri-plunger Landa pump-with 7-year warranty-as well as Landa's high-efficiency vertical burner with Robertshaw Millivolt Ignition and standing pilot light (electronic ignition is also available). The heat is efficiently retained in Landa's carefully crafted heating coils made of leak-free, cold-rolled, half-inch, Schedule 80 steel pipe. Landa has been in business since 1969 and was the first manufacturer to certify its entire line to the UL-1776 safety standards for pressure washers. For more information, contact Crismon Lewis at 1-800-547-8672 Ext. 175.
More from HVAC