Pressure Washer Steam Cleaner offers remote control technology.
Press Release Summary: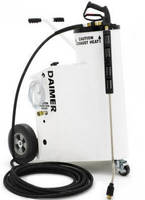 Super Max™ 6000 AST® propane-heated, electric, mobile, commercial-duty unit lets operators power machine on/off via wand and automatically shuts off when left idle for more than 30 sec. Offering steam temperatures to 330°F, pressure level of 750 psi, and flow rate of 1.4 gpm, system dissolves build-up without using chemicals. Long Hose Technology™Â lets users attach hoses as long as and more than 300 ft with minimal effect on pressure and no impact on temperatures or flow rate.
---
Original Press Release:

Daimer Debuts Pressure Washer Steam Cleaner with Advanced Remote Control Technology and Chemical-Free Cleaning Power



Daimer Industries, Inc.®, the most reputable global supplier of over 700 models of advanced, American manufactured cleaning machines to 200+ nations, and including such equipment as heavy-duty industrial pressure washer equipment, professional car wash equipment, and portable vapor steam cleaners, is now offering pressure washer equipment with its exclusive Automatic Shutoff Technology® (AST®). The Super Max™ 6000 AST® hot water pressure washer, which emits a steamy flow with temperatures up to 330ºF, is propane-heated and powered by electricity, and is one of the best commercial pressure washer systems in its class. The company's technology benefits operators since the system maintains its high temperature and flow rates with very little impact in pressure even over a 300 foot distance.



Daimer®'s latest technology lets operators power on and off the machine through the wand. The electric pressure washer ends the need for users to manually turn the machine off during breaks, and then walk back even hundreds of feet away to start it again. Conventional pressure washer equipment can waste a tremendous amount of time for users, especially in such longer distance situations.



"It is extremely inconvenient to turn on and off the machine repeatedly, however, running electric pressure washer equipment dry for a long time is not advisable. Operating a machine without water for a longer duration can damage its water pump, and degrade the system over time," says Daimer Industries, Inc.® spokesperson Matthew Baratta. "Daimer® is excited to launch its 330ºF Super Max™ 6000 AST® power-packed pressure washer machine that automatically shuts off when the machine is left idle for more than 30 seconds. The equipment dissolves build-up without chemicals, and can be easily turned on by pulling the wand's trigger, even if the user is working at extreme distances from the machines."



The Super Max™ 6000 AST®, a high-powered propane gas pressure washer machine, offers steam temperatures as high as 330ºF, a pressure level of 750 psi, and a flow rate of 1.4 gpm. The mobile commercial pressure washer comes with highly durable, stainless steel coils, actually rolled by Daimer®. Unfortunately, many other brands in the market that offer light and cheap aluminum coils that develop holes over time. Stainless is absolutely the best coil material and aluminum failure can cost the operator an unimaginable $1000 or more price tag in replacement cost.



The 6000 AST® hot water pressure washer comes with the company's completely unique Adjustable Temperature Control™ (ATC™ ) technology that allows users to adjust the temperature flow, ranging from hot water to high steam temperatures. The levels can be adjusted via a knob that is located right on the control panel. The adjustment manipulates the propane flow to increase or reduce temperatures. Importantly, the machine can heat water to 330ºF within merely 30 seconds.



The Super Max™ 6000 AST® from Daimer® can be used for varied uses, such as a commercial kitchen hood cleaning machine, steam car wash, industrial manufacturing cleaner, restaurant cleaning system, powerful tile and grout cleaning system, HVAC coil and condenser cleaner, and many more. The propane gas pressure washer machine is ideal for those seeking to remove even the toughest of buildups, including chewing gum, oil, and grease, as well as food deposits on a myriad of surfaces, including stainless steel, concrete, FRP, brick, and more without any chemicals.



The machine is an eco-friendly way of achieving enhanced cleaning with high temperatures. The Super Max™ 6000 AST® makes the cleaning task quick and easy, using just one-tenth of the water used by pressure washers from other brands.



The versatile machine comes standard with Daimer®'s Long Hose Technology™ (LHT™) that allows users to attach hoses as long as and more than 300 feet with negligible effect on the pressure level and absolutely no impact on temperatures or flow rate. The company bundles with the machine a 25 foot high temperature steam hose that allows users to clean up to 2000 square foot radius area while keeping the machine in place. Customers can also buy optional long hoses, if required.



For Additional Information:

To learn more about Daimer® machines, visit their website or telephone Matthew Baratta directly at (888) 507-2220. The equipment is available for shipment to over 200 countries globally.



About Daimer Industries, Inc.®:

Daimer Industries, Inc.® is a leading global supplier of its famous American brand commercial carpet extractor equipment, pressure washing equipment, and other types of power washing configurations. The company also offers a complete line of vapor steamers, carpet steam washers, gum removal machines, pest control equipment, concrete cleaning systems, and other exclusive technologies.



http://www.daimer.com/news/pressview/271-year.2012_271-id.704644324.html



Contact:

Matthew Baratta, Daimer Industries, Inc.®

16 Tower Office Park,

Woburn, MA 01801

http://www.daimer.com

http://www.facebook.com/DaimerInc

http://twitter.com/daimer_inc

http://pinterest.com/daimerinc/

matt@daimer.com

(888) 507-2220

Related