Pressure Transmitters offer high pressure spike resistance.
Press Release Summary: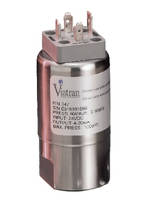 Suited for industrial and OEM environments, Model 247/347 Series features all-welded design with bonded foil strain gauge on hardened stainless steel diaphragm, along with fully potted electronics. For lower pressure measurements (3–200 psi), piezoresistive silicon sensing element is also incorporated. Available in 24 full-scale pressure ranges, transmitters offer weather-resistant DIN 43650 connector, 6-pin Bayonet or direct coupled cable, and choice of ¼ in. NPT or SAE female pressure port.
---
Original Press Release:

Viatran Announces OEM Industrial Pressure Transmitters with High Pressure Spike Resistance and Same Day Shipping



Wheatfield, New York, USA – Viatran (www.viatran.com),  an ISO9001 certified leader in the design, development and manufacture of innovative pressure and level transmitters, has announced the global market introduction of its Model 247/347 Series.



The Viatran Model 247/347 Series is a family of low-cost pressure transmitters, designed for reliable performance within demanding industrial and OEM environments. Their all-welded design incorporates a bonded foil strain gage on a hardened stainless steel diaphragm, along with fully potted electronics. This higher mass diaphragm allows the series to withstand the short-term overpressure conditions, or pressure spikes, most common to hydraulic testing and control applications. For lower pressure measurements (3 to 200 PSI or 0.34 to 13.7 bar), a piezoresistive silicon sensing element is also incorporated.



The series is available in 24 unique full-scale pressure ranges, and with a variety of electrical connections. Electrical connections include a weather resistant industry standard DIN 43650 connector, 6-pin Bayonet or direct coupled cable, and a choice of a ¼" NPT or SAE female pressure port. A standard zero adjustment control makes setup quick and simple. Special ranges and outputs are available upon request. In addition, many Model 247/347 ranges are available with same day shipping, as part of the company's RapidShip program. Please consult the factory for details.



Typical applications for the Viatran Model 247/347 Series include hydraulic testing and control, off-road equipment and off-highway vehicle transmission and lube oil pressure measurements, automotive brake lines, die casting, plastics injection molding, pumps and compressors, and general industrial and OEM pressure measurements. For detailed specifications, application assistance, or additional information, please contact Viatran on +1.716.629.3800, via email at solutions@viatran.com, or visit www.viatran.com.



Links to Product Datasheets:

http://www.viatran.com/pressure-transducer-model-247

http://www.viatran.com/search/index.php?findtext=347&x=0&y=0



Molly Bakewell Chamberlin

Founder/Principal Consultant

Embassy Global, LLC

Tel: +1.800.309.6150

Direct: +1.716.646.0927

Mobile: +1.716.866.3744

mchamberlin@embassyglobalpr.com

www.embassyglobalpr.com



https://www.linkedin.com/in/mollychamberlin





More from Services