Pressure Transmitter suits long-term, subsea use.
Press Release Summary: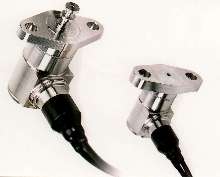 With all welded construction, PTX 300 Series is fully submersible with ambient pressure rating to 4,000 psi. Product utilizes micromachined piezo resistive silicon pressure measurement technology and is packaged to suit specific requirements of subsea hydraulic control systems. Series, offered with pressure ranges from 1,000-15,000 psi sealed gauge or absolute, offers better than 0.1% accuracy.
---
Original Press Release:

PTX 300, Subsea Pressure Transmitters


The PTX 300 Series of pressure transmitters has been developed for the offshore oil and gas industries as a compact, high performance device for reliable and long-term subsea use. It is available with operating ranges up to 15,000 psi and is fully submersible with an ambient pressure rating up to 4000 psi.

Originally designed for aerospace hydraulic systems, the PTX 300 Series utilizes micromachined piezo resistive silicon pressure measurement technology.

The product is packaged to suit the specific requirements of subsea hydraulic control systems. In particular, the high pressure containment rating, hydraulic transient protection and integrity of cable/electrical connections combine with the precision measuring technology to make the PTX 300 Series a leader in this field.

Features include:
- Ranges from 1000 to 15,000 psi sealed gauge or absolute.
- External/ambient pressure up to 4000 psi
- Better than 0.1% accuracy.
- High reliability and excellent long term stability
- All welded construction, high containment
- Accuracy combined non-linearity, hysteresis and repeatability: ±0.1% F.S. B.S.L.

About GE Druck
Recently acquired by the General Electric Company, GE Druck is a manufacturer of precision measuring and test equipment with subsidiaries throughout America, Europe and the Far East. The products range includes Pressure Sensors, Portable Calibrators, Calibration Standards and Air Data Test Systems. Established in 1972, Druck is a world leader in the application of advanced silicon sensor technologies for pressure measurement and control. Further information about GE Druck can be found at www.druck.com

About GE Industrial Systems
GE Industrial Systems spans the globe as an industry leader in integrated industrial and equipment, systems and services. The business brings to customers the latest technological products used to distribute, protect and control electrical power and equipment, and provides innovative product and service solutions for commercial, industrial, residential and utility applications. The business' Measurement & Sensing Technologies business is growing rapidly to address global customer needs for a broad range of key industrial measurement and sensing technologies. For more information visit the website at www.GEindustrial.com

For further information, contact Lisa Hickey at extension 311 or at hickeyl@druck.com

For technical information, contact Paul Lupke at extension 313 or at lupkep@druck.com

More from Mechanical Power Transmission