Pressure Transmitter meets safety certification of IEC 61508.
Press Release Summary: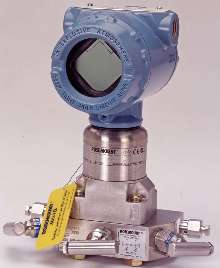 Rosemount 3051S, with scalable architecture and supervisory electronics, converts to TC-ViT certified pressure transmitter for use in SIL 2 or SIL 3 safety instrumented system (SIS). SuperModule(TM) design platform offers primary elements, diaphragm seal assemblies, and instrument manifolds that enable integrated, compact measurement solutions to serve all flow, level, and pressure applications in process plants. Hermetically sealed stainless steel housing withstands harsh field environments.
---
Original Press Release:

Emerson's Rosemount 3051S Transmitter is Industry's First with Conversion Option for Safety Certification per IEC61508


Safety certification and field proven process measurement are now available in one scalable platform, simplifying safety standard compliance and reducing customer lifecycle costs.

AUSTIN, TEXAS (June 9, 2004) - Emerson Process Management announces the addition of safety certification per IEC 61508 to the innovative Rosemount 3051S Series pressure transmitter line.

For the first time, a field-proven, highly reliable device for basic process control can be easily converted to a TC-ViT certified pressure transmitter for use in a SIL 2 or SIL 3 safety instrumented system (SIS). Made possible by the scalable architecture of the Rosemount 3051S, supervisory electronics are simply added to the transmitter either at time of order or after purchase in the field as a "plug and play" upgrade.

The 3051S transmitters are components of Emerson's new smart safety instrumented system (SIS), an integrated solution that extends the innovations of its proven PlantWeb® digital plant architecture. Within the smart SIS, the transmitters are integrated with safety-certified final control elements and safety systems in a unique, digital intelligent safety loop approach that enables users to implement safer plants. The 3051S transmitter for safety systems uses the same basic design and innovations as those used in PlantWeb solutions for mainstream Basic Process Control System automation. For example, diagnostics within the transmitter provide predictive unit and process health data that is delivered as needed for improving safety or mainstream control using HART® communications protocol.

Utilizing certified devices for safety applications eases user compliance to the new IEC 61511/ANSI ISA 84.00.01 (2004) safety standards for the process industry sector and minimizes the costly documentation and analysis efforts associated with the alternative prior-use methodology. Customer costs are further reduced by eliminating duplicate training, maintenance, and inventory costs because the same pressure instrument can be used in both basic process control and safety instrumented systems. With safety certification built on the foundation of the field proven 3051S, users now benefit from industry leading reliability and performance in their critical safety shutdown applications. The flexible 3051S SuperModule(TM) design platform also offers a complete family of primary elements, diaphragm seal assemblies and instrument manifolds which enable highly integrated and compact measurement solutions to serve all the flow, level, and pressure applications in a process plant.

"From the initial conception of the 3051S Series, the goal was to provide users with the most flexible, reliable, and cost effective family of process measurement solutions," commented Steve Sonnenberg, President of Emerson's Rosemount division. "Safety certification is a natural extension to the scalable 3051S offering just like advanced diagnostics and control functionality have been 'plug and play' options of the SuperModule design platform. The innovative 3051S, which has received over 35 patents for the advancement of pressure measurement, provides users with one common platform that can be scaled up to meet any application requirement resulting in significantly reduced capital, maintenance, inventory and regulatory costs."

To improve plant safety, the Rosemount 3051S goes far beyond being certified to the new IEC 61508 safety standard. Required proof test intervals can be extended to 5 years, eliminating unnecessary process interruptions and risk to personnel. The robust, hermetically sealed 316L stainless steel SuperModule housing is designed to withstand the harshest field environments. The 3051S Integrated Solutions allow the transmitter to be direct mounted close to the process, providing safer and more reliable measurements, reducing potential leak points by 90%. Unparalleled performance and advanced diagnostics ensure the most accurate and timely process information is available to make critical decisions.

The Rosemount 3051S Pressure Transmitter is one component of the Emerson's smart SIS solution that includes safety loops made by integrating Emerson's sensors, safety systems, final control elements and software. Engineered with the help of Emerson safety professionals, the safety solutions enable safer facilities, streamlined compliance, and life-cycle cost savings from engineering, through operations and maintenance.

The Rosemount 3051S Pressure Transmitter is also part of Emerson's broad range of intelligent, digital field devices that power the PlantWeb® digital plant architecture to improve plant efficiency by 2% and more through delivering asset optimization, process automation, and management execution. Further cost savings, increased plant availability, and enhanced safety and environmental compliance are achieved when the transmitters are integrated into the PlantWeb architecture.

To learn more about the smart SIS extension of PlantWeb, go to http://www.EmersonProcess.com/SIS.

About Emerson Process Management

Emerson Process Management, an Emerson business, is a leader in helping businesses automate their production, processing and distribution components in the chemical, oil and gas, refining, pulp and paper, power, food and beverage, pharmaceutical and other industries. The company combines superior products and services. A division of Emerson, Rosemount Inc. is a global leader in high-precision pressure, temperature, flow, and level instrumentation. Rosemount best-in-class technology and expertise play a key role in consulting, project management and maintenance services. Emerson brands include PlantWeb®; Rosemount®; Micro Motion®; Fisher®; DeltaV(TM); Daniel®; Ovation®; and AMS(TM) Suite.

About Emerson

St. Louis-based Emerson is a global leader in bringing technology and engineering together to provide innovative solutions to customers in process control, electronics and telecommunications, industrial automation, heating, ventilating and air conditioning, and appliance and tools. Sales in fiscal 2003 were $14 billion.

Contacts:

Jerry Moon, Emerson Process Management
1 (512) 832-3089, Jerry.Moon@EmersonProcess.com

Peter Dossing, Emerson Process Management
1 (512) 832-3162, Pete.Dossing@EmersonProcess.com

Related