Pressure Sensors / Detectors / Transducers
Pressure Transducers offer ranges from 5-1,000 psi.
Press Release Summary: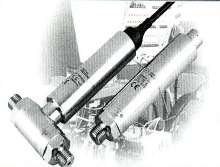 Series DPS 4000 features digital CANbus serial communications interface. Fully temperature corrected pressure readings are output as digital word at up to 100 Hz in any one of 24 engineering units, requiring no user system set-up or calibration. Integral digital electronics provide 0.2% reading for values above 50% FS and 0.1% FS for readings below 50% FS. Transducers are fully input/output isolated and suitable for automotive test stands.
---
Original Press Release:
New High Performance Automotive Pressure Transducers Enable Precision Test Measurements Using CANbus Digital Communications

GE Druck announces a new series of compact and rugged digital pressure transducers for highly accurate and reliable pressure measurements while operating in the demanding environments of modern automotive test stands, for example engine and powertrain test facilities.

From the testing of new lubricants through to the development of high performance racing engines and powertrains, demands placed upon test stands constantly increase. The GE Druck DPS 4000 series has been developed using extensive experience of the automotive industry. Modular design allows configurations to ensure complete measurement capability, ranging from oil/fuel and turbo pressures to monitoring of gearbox oil and clutch assemblies.

The DPS 4000 series features a digital CANbus serial communications interface. Fully temperature corrected pressure readings are output as a digital word at up to 100 Hz in any one of 24 engineering units, requiring no user system set-up or calibration. The integral digital electronics also enhance performance to levels unmatched by traditional analog transducers: 0.2% reading for values above 50% FS and 0.1% FS for readings below 50%FS, inclusive of all thermal effects over a compensated temperature range of 50 to 140°F (10 to 60°C).

Communications software is based upon the CANopen protocol. This offers the user access to last/next calibration date, calibration routines and serial number identification among others.

Capable of operation from a range of supply voltages (including batteries), the DPS 4000 is also fully input/output isolated for complete system protection and associated user
confidence.

Pressure ranges are available from 5 psi to 1000 psi including gauge, absolute and differential versions. Together with 400% overpressure, a choice of physical configurations and the ability to accommodate customer specific requirements, the DPS 4000 is ideally matched for meeting the diverse challenges presented by automotive test stand applications.

About GE Druck

Recently acquired by the General Electric Company, GE Druck is a manufacturer of precision measuring and test equipment with subsidiaries throughout America, Europe and the Far East. The products range includes Pressure Sensors, Portable Calibrators,
Calibration Standards and Air Data Test Systems. Established in 1972, Druck is a world leader in the application of advanced silicon sensor technologies for pressure measurement and control. Further information about GE Druck can be found at www.druck.com

About GE Industrial Systems

GE Industrial Systems spans the globe as an industry leader in integrated industrial and equipment, systems and services. The business brings to customers the latest technological products used to distribute, protect and control electrical power and
equipment, and provides innovative product and service solutions for commercial, industrial, residential and utility applications. The business' Measurement & Sensing Technologies business is growing rapidly to address global customer needs for a broad range of key industrial measurement and sensing technologies. For more information visit the website at www.GEindustrial.com
More from Thermal & Heating Equipment