Pressure Sensors / Detectors / Transducers
Pressure Transducers eliminate leaks in corrosive media.
Press Release Summary: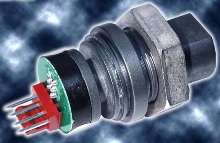 Panel-mount Model AST4200 provides data for safety, control, and alarm functions. Able to measure benign and corrosive media from -70 to +300°F, product offers hermetic seal against media without use of adapters and features one-piece bulkhead design made of 17-4PH or 316L stainless steel. It offers outputs of 10 mV/V, 4-20 mA, or 1-5 V and provides gauge, sealed gauge, or compound gauge pressure measurement up to 10,000 psi.
---
Original Press Release:

Panel-Mountable Pressure Transducers Eliminate Threat of Leaks in Corrosive Media


Landing, NJ, April 25, 2005...Pressure transducers form a critical function in today's closed -loop systems, providing data for safety, control and alarm functions encountered in typical industrial applications such as heating boilers, HVAC/R, gas correctors, compressors, test stands, fire suppression equipment and power generation. These sensors measure a wide range of benign and corrosive media, with temperatures ranging from -70 to +300 degrees Fahrenheit.

System integrators and panel builders traditionally relied on sensors mounted to bulkhead fittings in order to form of pressure connection for pressure measurements. This meant that in a typical panel, the sensor was mounted inside to a panel-mounted bulkhead fitting and sealed by means of Teflon tape or face O-ring and requires an additional connection between the bulkhead fitting and the hose. The seals between the sensor, bulkhead fitting, and the hose are critical and, if not formed correctly, can lead to leaks and eventual failure of the system, particularly in systems that handle water, steam, corrosive gases and liquids.

Using panel-mount pressure sensors, such as American Sensor Technologies (AST) Model AST4200, can overcome this problem as these sensors were designed to provide a hermetic seal against the media without the use of adapters. The unique one-piece bulkhead design of the AST4200 mounts through the panel to keep hazardous media out of the control box. Secondly, the solid one-piece 17-4PH or 316L high strength stainless steel design is free of welds, internal O-rings or fluid-filled cavities, making it ideal for applications that require high proof and burst pressures. The sensor requires a minimal mounting configuration that utilizes a standard panel punch. A locknut is used to hold the sensor to the panel, and leaves room for a gasket to be used. Two wrench flats on the nose of the sensor allow the user to tighten the external pressure tubing to the sensor without turning the part.

Units offer outputs of 10mV/V, 4-20 mA or 1-5V. Units provide long life and resistance to media corrosion as well as superb over range and burst protection. In addition to utilizing strain gauge technology, the AST4200 offers wetted material such as titanium and nickel alloys with its own-patented Krystal Bond(TM) Technology to produce strain gauge sensors that yield a high output with low thermal errors.

The AST4200 pressure sensors provide gauge, sealed gauge or compound gauge pressure measurement in ranges up to 10,000 PSI. Sensors are calibrated and temperature compensated to ensure stability over specified ranges. Units offer accuracy of < +0.5% BFSL at 25ºC (77º F) and long-term stability of +0.25% full-scale output per annum. Exhibiting excellent resistance to high vibration, shock and temperature extremes, and high levels of EMI/RFI filtrations, units are able to perform in a variety of demanding environments.

For additional information, please visit American Sensor Technologies website at www.astsensors.com or email at info@astsensors.com

About AST

AST manufacture state-of-the-art, MEMS-based pressure sensors, transducers, and transmitters that offer the best price-performance ratio in the industry. Common applications of AST sensor products are in industrial OEM, hydraulic systems, fuel cells, medical gases, HVAC/R, refrigeration (ammonia, Freon, CO2), oil & gas exploration and production, and off-road vehicles. By combining exotic metals and AST's exclusive, proprietary Krystal Bond(TM) Technology (an advanced process in which inorganic materials are molecularly diffused onto a metallic surface in the presence of certain gases), AST can produce high-performance strain gauge pressure sensors that support the specialized needs of key niche markets. Many AST products are UL listed as intrinsically safe and certified for explosion-proof required environments. Some of the world's most highly respected industrial Fortune 500 corporations have tested and now use AST products in a wide range of critical and harsh environments. For more information on AST products and technology, go to AST's website at www.astsensors.com.