Pressure Sensors / Detectors / Transducers
Pressure Transducer withstands harsh conditions.
Press Release Summary: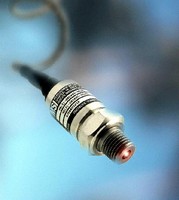 Featuring Microfused(TM) technology in vibration-proof package, Model M5100 is suited for high-pressure, high cycle count applications. Faraday shield, filter network, and ASIC work together for 100 V/mV EMI performance and heavy industrial CE rating. Machined from single piece of 17-4 SS, port and diaphragm have no welds or seals to leak over time. Transducer has total error band of ±1% FS, pressure options from 0-50 to 0-10,000 psi, and output options of 1-5 V, 0.5-4.5 ratiometric, and 4-20 mA.
---
Original Press Release:

Measurement Specialties Unveils New M5100 Pressure Transducer



December 1, 2006, Fremont, CA - Measurement Specialties (MEAS) is pleased to introduce the M5100 Pressure Transducer designed for use in industrial applications that require high long-term stability despite harsh environmental conditions. The M5100 is a high accuracy device priced competitively for OEM applications.

Typical applications for the M5100 Pressure Transducer include advanced HVAC controllers, refrigeration systems, pumps, compressors, hydraulic and pneumatic systems, industrial process control, agriculture equipment, automotive test stands, gas compressors and energy and water management.

The M5100 features Measurement Specialties' proprietary Microfused(TM) technology in a compact, rugged, vibration proof package, which is ideally suited for high pressure, high cycle count applications that can break down traditional pressure transducers over time. The heavy industrial CE-rated M5100 also features an advanced ASIC for extended temperature compensation, signal conditioning and output amplification. Total error band - the sum of all errors including linearity, hysteresis, and temperature - is +/- 1% full scale over a broad temperature range.

The M5100 port and diaphragm are machined from a single piece of 17-4 (316L available for high volume requirements) stainless steel. Therefore, there are no welds or seals in the pressure port to leak or fail over time. In the Microfused(TM) process, strain gages are fused with glass to the back of the stainless steel diaphragm at high temperatures. The resulting sensor is both extremely durable and stable over very long periods of time. Microfused(TM) sensing elements have been tested to 10 million cycles for many years without one failure. Tens of millions of Microfused(TM) sensing elements have been made over the past decade and can be found in diverse products such as automotive stability systems, paint sprayers and bathroom scales.

The M5100 features an electronics package which is improved over earlier generations of Microfused(TM) transducers, highlighted by an automotive-grade ASIC. The electronics provide digital compensation with multiple temperature point correction for better temperature calibration. The compensated temperature range extends from -40ºC to +125ºC, with extended performance to 150ºC. Quick power is provided on startup, with no negative going spikes. A Faraday shield, filter network and the advanced ASIC work together for 100 volts/millivolt EMI performance and a heavy industrial CE rating. The pressure transducer features overvoltage protection to 30 Vdc (standard outputs) or 16 Vdc (ratiometric output) in both positive and reverse polarity. Rugged flex interconnects protect the connections from damage due to vibration. An IP-67 rated overmolded connector, which features a welded can and an encapsulated cable seal, passes an immersion test even with a damaged or cut cable.

The M5100 Series is offered for gage sensing with a variety of options for ports, connectors and electrical outputs. Standard ports include NPT or SAE-4 with Schrader deflector, as well as European fittings such as G ¼ (¼ BSP), M12 or M20. Connectors include Packard, Bendix, DIN, Hirshman or cable. Standard output options include 1-5V, 0.5 to 4.5 ratiometric and 4-20mA. Pressure range options start at 0 - 50 psi and extend to 0 - 10,000 psi. Custom configurations are offered for OEM volumes.

Measurement Specialties also offers a comparable product with the same electronics package for high accuracy, low pressure applications and absolute pressure measurement. The U5100 is built on MEAS piezoresistive MEMS Ultrastable die technology, with the sensor contained within an oil-filled capsule for media isolation. This package provides even more accuracy and better performance at pressures under 150 psi. The U5100 is available in pressure ranges from 0 - 15 psi up to 0 - 10,000 psi, with a similar variety of output options, ports and connectors available.

For more information, contact your sales representative or Sharif Al-Sharif, pressure products applications engineer at (510) 498-1570 ext. 205 or sharif.al-sharif@meas-spec.com.

About Measurement Specialties. Measurement Specialties, Inc. designs and manufactures sensors and sensor-based systems. The Company produces a wide variety of sensors and transducers to measure precise ranges of physical characteristics including pressure, force, vibration, position, humidity, temperature and photo optics. Measurement Specialties uses multiple advanced technologies - including piezoresistive, electro-optic, electro-magnetic, capacitive, application specific integrated circuits (ASICs), micro-electromechanical systems (MEMS), piezoelectric polymers and strain gauges - to engineer sensors that operate precisely and cost effectively.

Pressure Products Applications Engineers: Sharif Al-Sharif at (510) 498-1570 ext. 205 or sharif.al-sharif@meas-spec.com.

Company Contact: Scott Brown, Global Marketing, (610) 971-9893 ext 16 or scott.brown@meas-spec.com.

More from Mechanical Power Transmission