Pressure Sensors / Detectors / Transducers
Pressure Transducer/Switch has programmable, 360° display.
Press Release Summary: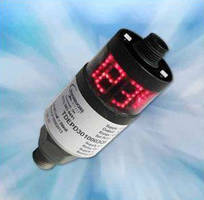 Accurate to within 0.5% of max operating pressure (10,000 psi), electronic TDEPD offers marquee display that can be set to revolve, hold at fixed angle, or inverted. Selectable red/green display colors allow sensor to be programmed to provide various visual cues for fluid power system. Along with Spike Monitoring Technology, features include field-selectable outputs, sub-millisecond update time, and redundant sensing elements. All-digital unit, sealed to IP67, is shock rated to 50G.
---
Original Press Release:

Patented 360-Degree Display on New Pressure Transducer/Switch is Industry's Largest - Field Programmable Even for Inverted Reading



Low-cost sensor is accurate to within 0.5% of maximum operating pressure.



Unique Spike Monitoring Technology records size and number of overpressure events.



CINCINNATI, Ohio – The new TDEPD electronic pressure transducer/switch introduces a patented, programmable marquee display that can be set to revolve, hold at a fixed angle, or inverted for upside down installations of the sensor. Selectable red/green display colors allow the sensor to be programmed to provide a variety of visual cues signaling the pressure, condition and readiness of a fluid power system. OEM/private-labeled models can even be programmed with custom displays.



The TDEPD includes proprietary Spike Monitoring Technology (SMT). Coupled with a sub-millisecond update time, SMT allows the sensor to capture and record short-duration "explosions" of hydraulic overpressure to protect the transducer and fluid-power system. SMT records spikes at 120 percent of rated pressure, and the number of spikes and maximum pressure recorded can be reviewed on the display using the sensor's programming buttons.



Unique in the industry, the TDEPD is all-digital with field-selectable, industry-standard outputs. Its  proprietary circuitry includes redundant sensing elements to ensure continuous machine uptime, while alerting the machine control of the need for replacement. The US-made TDEPD eliminates all mechanical components, wear parts and setpoint drift for ultimate reliability in shock and vibration applications. It uses a one-piece, precision-machined stainless steel diaphragm and header. All wetted parts are stainless steel, and the top-mounted connector simplifies wiring installation. Sealed to IP67, it is ideal for automotive stamping presses, mobile hydraulic equipment, injection molding machinery, rolling mills, amusement park rides, timber processing equipment and similar applications.



The low-cost TDEPD is shock rated to 50G and accurate to within 0.5% of its maximum operating pressure of 10,000 psi (689 bar). It is fully compensated for temperature over its entire operating range of -40°F to 185°F (-40° to 85°C).



The TDEPD has one digital output as standard, with an optional analog output of up to 10 VDC or up to 20 mA (field selectable) available. Three configurations are available with one switch output, two switch outputs, or one analog output and one switch output. Standard overpressure rating for the TDEPD is 2X, with 4X and 10X optional. Burst pressure is 5X or 20,000 psi, whichever is less. It is available with a variety of industry standard pressure-port connections.



How it works

The TDEPD transducer features a unique proprietary design, sensing pressure by using a time-to-digital converter (TDC) to measure the duration of a capacitive discharge across the changing resistance in a Wheatstone bridge atop the diaphragm. Clever circuitry splits the signal from the bridge, creating duplicate signals that ensure continuous machinery operation if one half should fail. The all-digital, field-proven design eliminates amplifiers, filters, amplified noise and signal delays, producing a high-resolution signal without analog variability or noise in the circuit.



For more information on the TDEPD, visit transducersdirect.com or call 513-583-9491.



Contact

Mark McDaniel

Transducers Direct

Tel 513-583-9491

mark_mcdaniel@transducersdirect.com



Agency

Ray Kemble

Kemble & Drum Communications Inc.

Tel 513-871-4042

rkemble@kembledrum.com



More from Agricultural & Farming Products