Pressure Sensors / Detectors / Transducers
Pressure/Temperature Transducer suits oil and gas operations.
Press Release Summary: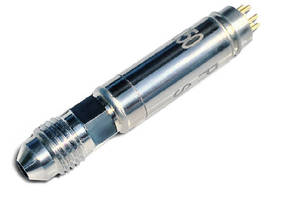 With outside diameter of just .37 in. to save tool space, Paine™ 310-38-0050 Series acquires critical data for smooth and efficient downhole oil and gas drilling and production operations. Ultra-miniature transducer measures pressure up to 25 kpsi and temperature up to 425°F to cover wide range of operating environments. Device features total error band of ±0.01% and drift specification of less than 0.05% over 60 days.
---
Original Press Release:

Emerson Introduces Ultra-miniature, High-precision Pressure and Temperature Transducer



Paine (TM) 310-38-0050 Series Transducer acquires critical data for smoother and more efficient downhole oil and gas operations



EAST WENATCHEE, WASHINGTON  - Emerson introduces the Paine 310-38-0050 Series Transducer to provide increased reliability when making pressure and temperature measurements in downhole oil and gas drilling and production operations. The transducer has the smallest footprint available with an outside diameter of just .37 inches to save critical downhole tool space.



Downhole drilling operations must measure pressure, temperature and other variables to optimize the drilling process and ensure safety. These measurements are typically made with a variety of downhole tools, either mounted just above the drill bit to provide continuous measurement while drilling, or as separate tools inserted into the drill hole on a periodic basis. Once drilling is complete and production begins, these measurements are needed to optimize throughput, maximize uptime and ensure safety.



In all of these applications, space is at a premium and high reliability is required. The environment is extremely harsh with high temperatures and pressures, corrosive drilling fluids and high vibration. Rugged components with small form factors are required to support smaller tool sizes, along with increased pressures and temperatures as holes become deeper.



To address these issues, the Paine 310-38-0050 transducer provides both temperature and pressure measurements in the smallest and most rugged form factor possible. It supports measurements up to 25kpsi (1723 BAR) and temperature up to 425F (218C) to cover the wide range of downhole operating environments.



The 310-38-0050 transducer provides well operators with critical pressure and temperature data for smoother and more efficient downhole operations with increased reliability and reduction of downtime. It improves upon prior solutions by offering a much smaller from factor while still providing the required measurements.



To learn more about the Paine 310-38-0050 ultra-miniature, high-precision pressure and temperature transducer, visit http://www.EmersonProcess.com/Paine.



About Emerson Process Management

Emerson Process Management (www.EmersonProcess.com), an Emerson business, is a leader in helping businesses automate their production, processing and distribution in the chemical, oil and gas, refining, pulp and paper, power, water and wastewater treatment, mining and metals, food and beverage, life sciences and other industries. The company combines superior products and technology with industry-specific engineering, consulting, project management and maintenance services. Its brands include Bettis™, DeltaV™, Fisher™, Micro Motion™, Ovation™ and Rosemount™.



About Emerson

Emerson (NYSE: EMR), based in St. Louis, Missouri (USA), is a global leader in bringing technology and engineering together to provide innovative solutions for customers in industrial, commercial, and consumer markets around the world. The company is comprised of five business segments: Process Management, Industrial Automation, Network Power, Climate Technologies, and Commercial & Residential Solutions. Sales in fiscal 2015 were $22.3 billion. For more information, visit Emerson.com.



Contact:

Joe Kitzman, Emerson Process Management

1-509-881-2100, Joe.Kitzman@Emerson.com



Or



Deanna Johnson, Emerson Process Management

1-512-633-2937, Deanna.Johnson@Emerson.com

More from Material Handling & Storage