Pressure Sensors / Detectors / Transducers
Pressure Sensors suit wastewater treatment systems.
Press Release Summary: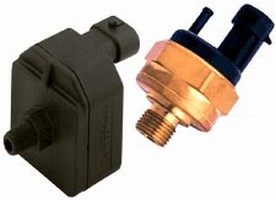 Compliant with NSF/ANSI Standard 61 requirements, P350 and P356 are used as part of early warning system for slow moving or stoppage of movement of wastewater within pump line. Water level and pump pressure sensor (P350) and low differential/gage pressure sensor (P356) have 0-5 through 0-150 psia/psig and 0.5-5 psig/psid measurement ranges, respectively. Both models utilize ceramic capacitive sense element, are EMI/RFI protected, and incorporate safety features.
---
Original Press Release:

Pressure Sensors for Wastewater Treatment & Filtration Applications



MOORPARK, Calif. - Kavlico, a global business unit of Custom Sensors & Technologies (CST) and an operation of Schneider Electric, has two pressure sensors available for pressure measurements for wastewater treatment systems. These sensors meet the NSF/ANSI Standard 61, adopted in October of 1988 for water filtration and wastewater treatment requirements.

Wastewater systems require all waste to be pumped from lift stations to the wastewater treatment facility. The pumps work 24/7 and require pressure sensors to monitor the pressure of the pump line. Kavlico's P350 pressure sensor can be used to notify personnel at the pumping stations of any irregularities during the pumping process due to either drops or rises in the pump pressure which would be cause for alarm, at which point corrective action would be taken. The Kavlico P356 pressure sensor can be used to monitor flow. Both sensors are often used as part of an early warning system for slow moving or stoppage of movement of wastewater within the pump line. Monitoring the flow can prevent damage and costly repairs and downtime insuring water flow is uninterrupted.

Kavlico's P350 Water Level and Pump pressure sensor utilizes a ceramic capacitive sense element and measures pressures from 0-5 through 0-150 PSIA or PSIG. It is ideal for water tower level and wastewater systems. The sensors have outstanding shock and vibration characteristics, are EMI/RFI protected, have a linear amplified output of 0.5 to 4.5 Vdc, are suitable for both dry and wet process media, and are temperature compensated, as well as having reverse polarity and over-voltage protection. The sensors are low power consumption devices that have a built-in Metri-Pack 150 electrical connector arrangement with a 1/4-18 NPT pressure connection.

The P356 is a low differential/gage pressure sensor that also has a ceramic capacitive sense element. The rugged brass housing makes it well-suited for hostile environments. Pressure measurement ranges are from 0.5 to 5 PSIG/PSID. This sensor is also ideal for water tower level and wastewater treatment systems. The sensor has a linear amplified output of 0.5 to 4.5 Vdc and operates on a supply voltage of 5 Vdc. As with the P350, this sensor is EMI/RFI protected, has over-voltage, reverse polarity and short circuit protection, as well as the capability to operate in high shock and vibration environments.

About Kavlico
Kavlico is an operation of Custom Sensors & technologies (CST) and is a global business unit of Schneider Electric. Kavlico is a leading manufacturer of pressure, position (LVDT & RVDT), force, level, tilt, media quality, and other specialty sensors, and transducers for the transportation, industrial and aerospace & defense markets. www.kavlico.com

About Custom Sensors & Technologies
Headquartered in Moorpark, CA - Custom Sensors & Technologies (CST) is a global business unit of Schneider Electric and is comprised of industry-leading brands including Crouzet, Kavlico, Crydom, and former divisions of BEI Technologies - Newall and Systron Donner. CST provides sensors, controls, and actuation products for the Transportation, Industrial and Aerospace & Defense markets. www.cstsensors.com

About Schneider Electric
Schneider Electric is the world's power and control specialist. Through its world-class brands, Merlin Gerin, Square D and Telemacanique, Schneider Electric anticipates and satisfies its customers' requirements in the residential, building, industry and energy and infrastructure markets. Schneider Electric has more than 200 manufacturing sites around the world and supports more than 200 associations. With 120,000 employees and operations in 106 countries, Schneider Electric generated sales of 17.3 billion in 2007. www.schneider-electric.com.

Schneider Electric
Giving the best of the New Electric World
To everyone, everywhere, at any time.

For more information, please contact:

Lori Appel
Manager, Marketing Communications

Kavlico
T 805-552-3406
F 805-523-7125
lappel@kavlico.com

More from Electrical Equipment & Systems