Pressure Sensors / Detectors / Transducers
Pressure Sensor/Transducer is offered with 2 connector types.
Press Release Summary: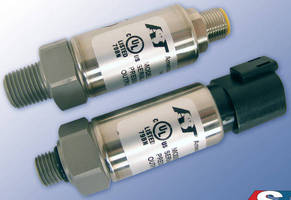 Supplied in fully welded housing, AST4000 series features one-piece stainless steel sensing element. Available DT04 Deutsch connector is suited for on-road, off-road, hydraulic, and agricultural applications, while threaded M12x1 Eurofast connection option suits factory automation and OEM applications. Both electrical connectors offer 4-pin connections, allowing end-users to package their pressure sensor, transducer, or transmitter with millivolt, voltage, or 4-20 mA output signal.
---
Original Press Release:

Pressure Sensor / Transducer with Deutsch and M12x1 Eurofast Now Available on AST4000



American Sensor Technologies, Inc. (AST) has released its AST4000 pressure sensor, transducer and transmitter series to the OEM market with four-pin DT04 Deutsch and M12x1 Eurofast electrical connection options. Popular in on-road, off-road, hydraulic and agricultural applications; the DT04 Deutsch connector is a rugged connector that is similar to the Packard Metripack 150 series. The M12x1 Eurofast connection has seen growth in factory automation and OEM applications. This connection is compact and threaded to ensure a proper connection between the sensor and cable assembly under shock and vibration.

Because both electrical connection types offer four pin connections, customers can package their pressure sensor, transducer or transmitter with a millivolt, voltage, or 4-20mA output signal.

For customers with multiple pressure sensors per application, the new options offer increased flexibility in system integration. Designing the equipment with different electrical connections for each location ensures proper installation and avoids product failure. Connectors on pressure sensors, in general, help customers install or uninstall the cable and sensor independently.

AST is defining the DT04 Deutsch electrical connection with the letter "Z" and the M12x1 Eurofast connection with the letter "Y."

The AST4000 features AST's proprietary one-piece stainless steel sensing element, a fully welded housing; and a variety of pressure ports, outputs and electrical connections. This product fits well into multiple industrial pressure sensing applications requiring accuracy, repeatable measurements, and long-term stability.

Wiring and pin-out information can be downloaded from the website's Media / Technical Center.

For more information on the AST4000 pressure sensor / transducer, visit: www.astsensors.com/pressure_sensors_and_transducers/AST4000

About American Sensor Technologies, Inc.

American Sensor Technologies, Inc. (AST) manufactures MEMS-based pressure sensors, pressure transducers and pressure transmitters that offer the best price-performance ratio in the industry. Manufactured in New Jersey, AST pressure sensing products are built with a full selection of hazardous area and industrial approvals to service customer applications. Common industries utilizing AST sensor products are industrial OEM hydraulic systems, fuel cells, medical gases, HVAC, refrigeration (ammonia, Freon, CO2), Oil & Gas exploration and production, and off-road vehicles. AST's exclusive, proprietary Krystal Bond(TM) Technology (an advanced process in which inorganic materials are molecularly diffused onto a metallic surface in the presence of certain gases), produces high-performance pressure sensing products through the use of a single piece of stainless steel. AST offers a variety of UL and CSA approvals for Explosion-proof, Intrinsically Safe, and Non-incendive pressure transmitter applications. For more information on AST pressure sensing products and technology, please visit www.astsensors.com. Through the acquisition of noted LVDT manufacturer Macro Sensors (www.macrosensors.com), AST also offers a full line of linear/rotary position sensors, as well as related instrumentation.