Pressure Relief Valves handle air, gas, steam, and liquid.
Press Release Summary: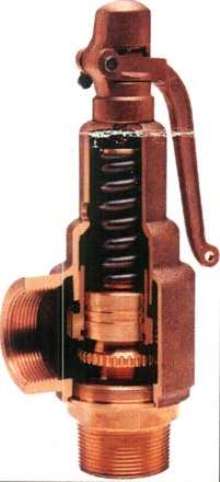 Series 211 and 632 Safety Valves provide over-pressure protection in air or gas compressors, pressure vessels, piping, boilers, and cleaners. Disc, seat, and stainless steel spring provide bubble-tight seal. Certified for ASME Section I or Section VIII Code applications, valves serve operating pressure from 5-250 psi, with 250 psig max set pressure at 406°F. Relief performance is 39-7,810 scfm for air, gas, or vapor; 111-22,148 lb/hr for steam; and 9-478 gpm for liquid.
---
Original Press Release:
New Safety Pressure Relief Valves Offer Low-Maintenance System Protection
BLYTHEWOOD, SC - September 29, 2003 - Spirax Sarco, Inc., has introduced Series 211 and Series 632 Safety Valves for air, gas, steam and liquid applications. These valves provide reliable overpressure protection in system components such as air or gas compressors, pressure vessels, piping, boilers, accumulators, cleaners and process equipment. The safety valves feature a dual-ring design for easy adjustment, precise opening and high-volume, short blowdown, with high liquid flow capacity. The nozzle and disc are changeable for the flexibility to accommodate changing conditions and processes. A special disc, seat and stainless steel spring design provides a consistent bubble-tight seal. The safety valves, certified for ASME Section I or Section VIII Code applications, serve an operating pressure range from 5 to 250 psi, with a 250 psig maximum set pressure at 406°F. Relief performance is 39-7,810 SCFM (D-J orifice) for air, gas or vapor; 111-22,148 lb/hr (D-J orifice) for steam and 9-478 gal/min (D-H orifice) for liquid. Safety valve bodies are bronze. Nozzles are available in brass or 316 SSt; discs in brass or 316 SSt with a PTFE soft seat; and springs in PH SSt, 316 SSt, Inconel, X750 or MP35N. Lift lever and soft seat configurations are available. Additional information is available at www.spiraxsarco.com/us, by calling toll-free 800-575-0394 or by EMailing ssisales@spirax.com. Spirax Sarco Spirax Sarco is the world leader in the control and efficient use of steam and other industrial fluids. Contact Dawn Cartwright Marketing Communications Supervisor Spirax Sarco, Inc. Tel. 803-714-2072 Fax 803-714-2224 EMail dcartwri@spirax.com http://www.spiraxsarco.com/us
More from Mounting & Attaching Products