Pressure Reactor has operating temperature of -80 to +200°C.
Press Release Summary: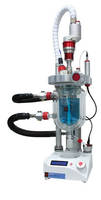 Designed for applications where elevated pressures are required, Atlas Potassium Pressure System offers glass vessels ranging from 100 mL to 3 L which can be changed in less than 1 min. Controlled automatically or manually, PED/ASME compliant, modular 3 bar pressure reactor features burst disc and pressure relief valve for safety. Operation modes include manual pressure control, automatic pressure maintenance, pressure control with mass flow monitoring, mass flow control, and off gas monitoring.
---
Original Press Release:

Syrris Launches Glass Pressure Reactor System



Easy-to-use jacketed reactor system simplifies chemical reactions at elevated pressures

Royston, UK - Leading chemistry automation product innovator, Syrris has launched the Atlas Potassium Pressure System, a modular 3 bar pressure reactor. With the ability to be controlled automatically or manually, this easy-to-use system can be supplied with glass vessels ranging from 100 ml to 3 litres, which can be changed in less than one minute. Designed for applications where elevated pressures are required, the Potassium Pressure System is ideal for protocols requiring hydrogenation, carbonylation etc.

Offering powerful overhead stirring and a temperature range of -80 to +200 °C, the basic system provides automatic temperature and stirrer control, as well as pressure sensing. In addition, PED/ASME compliance, a burst disc and pressure relief valve makes the system extremely safe. Modes of operation include: manual pressure control, automatic pressure maintenance, pressure control with mass flow monitoring, mass flow control and off gas monitoring.

Control via the Atlas base can be manual or automated, enabling the simple logging of all data to a .csv file, which is easily downloadable to a USB stick. In addition, optional PC control offers advanced functionality, including the complete automation of all parameters, alarms and real-time graphs.

For further information on the Atlas Potassium Pressure System and its full range of available upgrades, including the gas selection module, pressure control module and gas flow metre, please visit www.syrris.com.

Syrris Limited
Established in 2001, Syrris Limited is one of the fastest growing science SMEs in the UK employing over 30 scientists and engineers at its facility in Royston (near Cambridge). Founders Mark Gilligan and Richard Gray come from a background of developing automation products for chemists at companies such as The Technology Partnership (TTP) and Mettler Toledo.

Syrris develops laboratory automation products for chemists such as the Atlas automated chemistry systems. Atlas can be configured into a wide range of different systems including Lithium and Sodium for round bottom flasks (magnetically and overhead stirred respectively) and Potassium for jacketed vessels. Other Atlas systems, designed for specific applications, including calorimetry, volumetric dosing, gravimetric dosing, pH, etc, are also available.

Syrris also specialise in flow reactors for R&D chemists, including FRX: a low cost flow chemistry system and Africa (Automated Flow Reaction Incubation and Control Apparatus): a modular system for library synthesis, aqueous work-up and reaction optimization that will ultimately reduce the time taken to develop, synthesize, screen and review a chemical entity, thus vastly speeding up the drug discovery process.

In recognition of its technological achievements, Syrris has been awarded a prestigious UK DTI SMART Exceptional Grant. Syrris has also won a significant DTi MNT (Micro and Nano Technology) award which has been used to establish a new subsidiary called The Dolomite Centre Ltd. This company is focused on design and fabrication of Microfluidic devices for a wide range of applications.

Product enquiries
Syrris Ltd.
T:+44 1763 242555
F: +44 1763 246125
Email info@syrris.com

More from Electronic Components & Devices