Pressure Piping Systems include 10 and 12 in. pipe sizes.
Press Release Summary: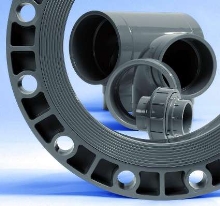 Available in 20 ft lengths, Schedule 80 PVC and CPVC Piping Systems feature chemical and corrosion resistance to acids, alkalis, and alcohols, making them suited for handling wide range of fluids. PVC and CPVC thermoplastic materials are lightweight and will not rust, scale, or pit. PVC systems offer temperature resistance up to 140°F, while CPVC systems withstand temperatures to 210°F. Both include all necessary fittings required for most applications.
---
Original Press Release:

George Fischer Sloane, Inc.'s Schedule 80 PVC and CPVC Pressure Piping Systems Offer Expanded New Size Range up to 12-Inch in Diameter


LITTLE ROCK, Arkansas - March 30, 2005 - George Fischer Sloane, Inc. has expanded its Schedule 80 PVC and CPVC Pressure Piping Systems to include large diameter 10 and 12-inch pipe sizes. The new Schedule 80 pipe is available in 20-foot lengths and the all necessary fittings required for most applications. Fittings are supplied in a combination of fabricated and molded styles that include a wide range of couplings, bends, wyes, pipe increasers, reducing wyes, expansion joints, brass insert fittings, and saddles. The new offering completes the necessary sizes to provide a comprehensive size range from 1/4'" to 16-inch.

Designed for handling a broad range of fluids, the PVC (Polyvinyl Chloride) and CPVC (Chlorinated Polyvinyl Chloride) Schedule 80 Piping Systems feature high chemical and corrosion resistance to acids, alkalis, alcohols and other corrosives, offering a durable solution for a variety of industrial applications. PVC and CPVC thermoplastic materials will not rust, scale or pit and are extremely lightweight, making installation faster and easier and significantly less expensive that steel alloy or lined steel.

The PVC Schedule 80 Piping System, which has a temperature resistance up to 140º F, is typically found in chilled water systems, chemical processing, industrial plating and chemical drainage systems. The CPVC Schedule 80 Piping System, which can withstand higher temperatures up to 210º F, is well suited for use in hot water systems, hot acid distribution, and waste systems.

The PVC Schedule 80 Piping System conforms to ASTM D1785, ASTM D2467, and ASTM D2464. CPVC Pipe and Fittings conform to ASTM F441, F437 and F439. The pipe and fittings of both materials meet the requirements of NSF 14 and NSF 61 as suitable for potable water. The plastic pipe and fittings are also listed with IAPMO and conform to UPC requirements.

For further information, please contact George Fischer Sloane, Inc. at 7777 Sloane Dr., Little Rock, Arkansas 72206; Tel: (501) 490-7777; Toll-free: (800) 423-2686; Fax: (501) 490-7171; E-mail: jim.bradley@sloane.georgefischer.com; web site: sloane.georgefischer.com

Related