Pressure Sensors / Detectors / Transducers
Pressure Measurement System tests bra comfort and fit.
Press Release Summary: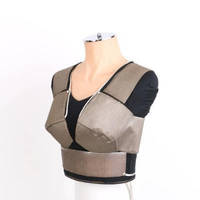 Unlike other tactile sensing technologies, Bra Pressure Measurement System can resolve to pressures as low as 0.01 psi or 0.5 mm Hg while conforming to complex body shapes. Seven array sensors, featuring 1,764 pressure-sensing elements, are constructed with conductive cloth materials and are mounted on customer-supplied mannequin. System also includes Chameleon Visualization Software with multiple display options, integrated video, and API, enabling customer to collect, save, and export data.
---
Original Press Release:

Pressure Profile Systems, Inc., the Leader in Providing Innovative Tactile Sensing Solutions, Introduces a Bra Pressure Measurement System to Determine Product Comfort and Fit



This wearable technology utilizes the world's most sensitive tactile sensors to introduce a new standard for bra comfort and fit testing



LOS ANGELES -- Pressure Profile Systems, Inc. (PPS) today announced a Bra Pressure Measurement System that allows bra manufacturers a more quantitative approach to test comfort and fit while developing their next-generation products. The newly released system is the first of its kind for this application. Unlike any other tactile sensing technologies, the Bra Pressure Measurement System is capable of resolving to pressures as low as 0.01 psi or 0.5mmHg while also conforming to complex shapes of the body – all without sacrificing accuracy or repeatability performance.



This wearable technology utilizes the world's most sensitive tactile sensors to introduce a new standard for bra comfort and fit testing

"The Bra Pressure Measurement System is unique in that it can sense very low pressures that allow bra manufacturers to develop more comfortable products thus generating more sales as a result," stated Dr. Jae Son, Chief Executive Officer at Pressure Profile Systems, Inc. "In addition, many other manufacturers can adopt this wearable technology in a variety of other applications where contact pressures are applied to the body."



The new Bra Pressure Measurement System comprises simple, intuitive Chameleon Visualization Software with multiple display options, integrated video, and API empowering the customer to easily collect, save and export data as well as the ability to develop custom software. Also included are seven array sensors featuring 1,764 pressure-sensing elements and constructed with advanced conductive cloth materials for high conformability and stretchability, and two T4500 electronics driving the 1,764 pressure sensing elements and enabling the outstanding pressure sensing resolution. The sensors are mounted on a customer supplied mannequin.



The Bra Pressure Measurement System not only delivers quality data under demanding conditions but it does so while enabling minimally intrusive integration into the mannequin's body along with maintaining performance. It provides another example of PPS' many successes in providing cutting edge tactile sensing solutions that solve highly complex problems for its customers.



For further information about Pressure Profile Systems, Inc. and ergonomics solutions, visit: http://www.pressureprofile.com/ergonomics-overview/



About Pressure Profile Systems, Inc.

Pressure Profile Systems, Inc. (PPS) provides innovative tactile sensing solutions that push the boundaries of sensing technology. PPS' mission is to leverage and enhance capacitive tactile sensing technology to develop innovative, meaningful products that harness the sense of touch for medical devices, robotics, ergonomics, and automotive applications, in addition to industrial and consumer products. What sets PPS apart is not only its unique sensor technology – with advantages of design flexibility, sensitivity, and stability – but also its skillful engineering team with expertise in custom sensor design and hardware and software integration. Our customers include world leaders such as Apple, Microsoft, Qualcomm, J&J, Google and many other Fortune 500 companies.



What Sets PPS Apart?



Unique sensor technology with advantages of design flexibility, sensitivity, and stability.

Skillful engineering team with expertise in custom sensor design and hardware and software integration.

Proven track record in overcoming technical challenges.

Experience with U.S. and International regulatory bodies and practices. (FDA, CE, UL, CSA, CMDCAS, CGMP, etc.)



CONTACT: 

Eli Yered

Pressure Profile Systems, Inc.

323-325-4757

eli@pressureprofile.com

More from Sensors, Monitors & Transducers