Pressure-Blast Cabinet offers direct pressure media delivery.
Press Release Summary: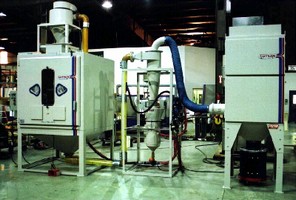 With interior dimensions of 60 x 60 x 60 in., Model 10/P holds 1.5 cu-ft of shot or grit and accommodates large components or bulky fabrications. Cabinet has 2 sets of armholes and is supplied with turntable to facilitate access during blasting operations. Turntables up to 48 in. in diameter are available with weight capacity from 500-2,000 lb. Cyclone reclaimer is installed on top of media delivery stack-up to separate dust and fines from recirculated blast media.
---
Original Press Release:

Industrial Pressure-Blast Cabinet



Guyson Corporation offers its Model 10/P cabinet- blast system with direct pressure media delivery and a high-performance media reclaimer for increased productivity in blast cleaning and surface preparation applications that require an expanded finishing enclosure.

With interior dimensions of 60 x 60 x 60 inches (1.5 x 1.5 x 1.5 meters), the Model 10/P accommodates large components or bulky fabrications that might otherwise have to be processed in a walk-in blast room. The cabinet has two sets of armholes and is typically supplied with a Lazy Susan turntable to facilitate improved access during blasting operations. Turntables up to 48 inches in diameter are available with a weight capacity from 500 to 2,000 pounds, and a power-jogging table with motorized rotation is also offered.

The standard pressure vessel of the Model 10/P holds 1.5 cubic feet (42.5 liters) of shot or grit, and the blast machinery manufacturer normally configures the media delivery system to automatically recharge the vessel whenever the operator's foot is momentarily removed from the actuator pedal. The system can be optionally equipped with a larger pressure pot to enable an extended period of continuous blasting.

A cyclone reclaimer is installed on top of the media delivery stack-up to separate dust and fines from the recirculated blast media. The machine builder claims that its elongated cone design creates a larger dust extraction zone in the cyclone, enabling superior separation, more uniform consistency in the media and less dusty operation of the blast cabinet. The system is completed by an efficient cartridge-type dust collector that is capable of filtering 1,000 cubic feet of air per minute. The dust collector blower generates strong negative pressure in the blasting cabinet to improve visibility, pneumatically conveys media through ducting from the bottom of the blast chamber to the reclamation system and powers the high- performance cyclone separator.

When heavy workpieces are to be blast cleaned or finished, the Model 10/P can be supplied with a track extension and roll-out transfer cart that allows unrestricted access for loading by an overhead crane or hoist. The pressure-blast cabinet is compatible with all types of blasting media, including plastic grit, glass bead, aluminum oxide grit and metal shot.

Prospective users of industrial cabinet-blast systems are invited to submit sample components for free laboratory testing and application engineering evaluation at the machine builder's factory in northeastern New York State.

Contact Name: John C. Carson
Title: Group Leader, Applications E-mail: jccarson@guyson.com

More from Architectural & Civil Engineering Products