Pressure Sensors / Detectors / Transducers
Pressure and Thermal Sensors offer value added options.
Press Release Summary: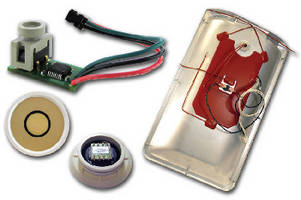 Customizable Pressure and Thermal Sensor Solutions include modules with multiple sensors and technologies integrated inside. Units are available with heaters, magnetic, magneto-resistive, infrared, optical, pressure, thermal, and humidity options. Additional value added options include custom interfaces, I/O, size and shape, environmental packaging, and total thermal management solutions.
---
Original Press Release:

Honeywell Sensing and Control Launches New Value Added Sensor Assembly Solutions



Integrated Pressure and Thermal Sensor Solutions, Packaging and Termination Options Simplify Design Decisions



MINNEAPOLIS, MN – Honeywell (NYSE:HON) today announced that it has launched new customizable pressure and thermal sensor solutions – including modules with multiple sensors and technologies integrated inside. Heaters, magnetic, Magneto-resistive, infrared, optical, pressure, thermal, and humidity options are all available for customization. Additional value add options include custom interfaces, I/O, size and shape,  environmental packaging, and total thermal management solutions to make it much easier, faster and more affordable for design engineers to find a Honeywell sensor solution that meets their design parameters.  



With Honeywell's upfront and ongoing technical support, this customization process enhances the developer design process, ensuring that new and updated designs can be brought to the market quicker. The ability to design in a customized version of an already approved sensor design often means that device developers do not have to re-certify their upgraded products, saving both time and money.



"It is important to provide customers with exactly what they want, all from a single vendor," said Valerie Rothermel-Nelson, Honeywell senior global product marketing manager. "This is part of Honeywell's new systematic method of providing integrated and differentiated value added solutions.  Our new approach means that we are now providing higher level assemblies, not just components.  A higher level assembly is a package that provides differentiated and integrated solutions that ultimately give our customers a competitive advantage. It could be combining more than one sensor into higher level packaging, providing custom termination or even providing total thermal management solutions."



Honeywell's value-added capabilities build on highly reliable, proven and accurate sensing platforms, while responsive quoting and rapid prototyping processes meet demanding deadlines.



Honeywell (www.honeywell.com) is a Fortune 100 diversified technology and manufacturing leader, serving customers worldwide with aerospace products and services; control technologies for buildings, homes and industry; turbochargers; and performance materials. Based in Morris Township, N.J., Honeywell's shares are traded on the New York, London, and Chicago Stock Exchanges.



Honeywell Sensing and Control is a leading global supplier of custom-engineered sensors, switches, machine safeguarding and other devices that offer enhanced precision, repeatability and durability to a variety of original equipment manufacturing applications across the medical, industrial, transportation, aerospace, and test and measurement segments. For more news and information on Honeywell Sensing and Control, please visit sensing.honeywell.com.



Contact:

Holly Grover

Honeywell Sensing and Control

(763) 954-5093

holly.grover@honeywell.com

More from HVAC