Pressure Sensors / Detectors / Transducers
Pressure and Temperature Transducers suit subsea systems.
Press Release Summary: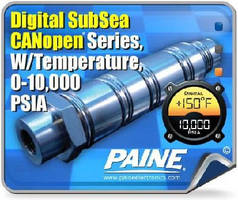 Designed to meet API 17F/ISO 13626-6 and CIA 443 requirements, Digital SubSea CANopen® Series provides intelligent CANopen® networking solution for pressure/temperature measurement. Series measures pressure from 0-10,000 psia with better than 0.04 psi resolution and temperature from +20 to +150°F with 0.5°F resolution. Constructed of all-welded titanium, transducers include micro Subconn® MCBH4F subsea connector. Alternate pressure ranges and port fittings are available to meet requirements.
---
Original Press Release:

New Digital SubSea CANopen® Pressure & Temperature Transducer Series



EAST WENATCHEE, WA - New Digital SubSea CANopen® Pressure & Temperature Transducer Series:

Designed specifically for subsea systems, Paine Electronics new Digital SubSea CANopen® Series meets the requirements of API 17F / ISO 13626-6 and CIA 443 (SIIS Level 2 device) providing the intelligent CANopen® networking solution for pressure and temperature measurement.

Precise digital pressure measurement from 0-10,000 PSIA and temperature measurement from +20°F to +150°F (-6°C to +65°C), the Digital SubSea CANopen® Series sports a micro Subconn® MCBH4F subsea connector, is constructed of all welded titanium for long term subsea operation and provides easy network integration.

Specifications Brief:

o Digital Output: CANopen®, Fault tolerant.

o Total Error of Digital Pressure Output: <0.075% Full Scale over the calibrated temperature range.

o Pressure Resolution: Better than 0.04 PSI.

o Operating Temperature Range: +25°F to +140°F (-4°C to +60°C)

o Calibrated Temperature Range: +32°F to +100°F (0°C to +38°C).

o Pressure Output In PSI: The internal microprocessor compensates for the effects of temperature and non-linearity providing accurate pressure in PSI.

o Temperature Output: °F or °C.

o Temperature Resolution: 10 Bits minimum. Better that 0.5°F.

The Digital SubSea CANopen® Series can be provided with alternate pressure ranges and port fittings to meet your specific requirements. For more information, please visit our Standard Transducer page or our News page to access the latest datasheet.

Typical Applications: Subsea Production Systems, ROV's, Subsea Control Systems, Subsea Valves and more...

About Paine Electronics, LLC: CELEBRATING 60 YEARS OF EXCELLENCE, Paine Electronics manufactures highly accurate, state-of-the-art pressure transducers, transmitters and temperature sensors for some of the most vital technologies in the world. Our advanced proprietary sensor technology and manufacturing capabilities has made us the preferred choice for pressure and temperature measurement in the toughest applications.

Paine Electronics, "Pressure Instrumentation for the Toughest Applications"

Contact Paine Electronics or your authorized Paine Electronics representative for more standard configurations or options. All specifications are subject to change or modification without notice. PAINE ® is a registered trademark of Paine Electronics, LLC. | Copyright © Paine Electronics, LLC | All Rights Reserved

More from Software