Pressed Glass Spacers enable glass-to-metal seal.
Press Release Summary: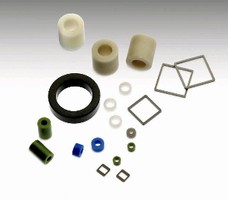 Intended for hermetic packages used for relays, fuses, fiber optic connections, and IC packages, Pressed Glass Spacers are available in lengths from .070-.155 in. and inner diameters from .026-.063 in. Standard tolerance in all dimensions is ±.002 in. Offered in green, blue, black, and white, spacers withstand temperatures required for PCB applications, and are also suitable for positioning and isolating electrically sensitive components during wave soldering.
---
Original Press Release:

GBC Materials Offers Pressed Glass Spacers For Glass-To-Metal Seals



The GBC Materials business of Morgan Advanced Ceramics (MAC) offers pressed glass spacers for hermetic packages for relays, fuses, fiber optic connectors and integrated circuit packages. Glass spacers from GBC Materials are also widely used to position and isolate electrically sensitive components, such as capacitors and varistors during wave soldering.

The GBC Materials pressed glass spacers are ideal for high-reliability printed circuit boards found in a wide variety of electronics, including wireless electronic devices. Unlike plastics, pressed glass spacers can withstand high temperatures providing a low-cost solution for printed circuit board applications.

The pressed glass spacers are available in standard sizes, including lengths ranging from .025" to .250", outer diameters from .070" to .155", and inner diameters from .026" to .063". The standard tolerance on all dimensions is +/- .002". The pressed glass spacers can be tooled to meet specific application requirements and are manufactured in an array of colors, including green, blue, black and white.

GBC Materials, located in Latrobe, PA, has been producing glass components to the telecommunications, appliance and electronic industries for over 40 years. More than 300 glass compositions are offered and additional specialty glasses are available upon request to ensure that each individual customer specification is met, while stringent batch controls provide the highest degree of reliability.

About Morgan Advanced Ceramics
Morgan Advanced Ceramics (MAC) has a comprehensive range of Ceramic materials, from which its products are manufactured. Supplying to a variety of demanding markets, MAC has established an enviable reputation for providing value-added solutions through world-class research and development, innovative design and, perhaps most important of all, application engineering.

Morgan Advanced Ceramics, together with Morgan Electro Ceramics forms Morgan Technical Ceramics, a division of the Morgan Crucible Company plc. From manufacturing locations in North America, Europe and Asia, Morgan Technical Ceramics supplies an extensive range of products, including ceramic components, braze alloys, ceramic/metal assemblies and engineered coatings.

For more information on Morgan Advanced Ceramics visit www.morganadvancedceramics.com or contact one of our sales offices below:

UK & Eire
Morgan Advanced Ceramics, Bewdley Road, Stourport, Worcestershire, DY13 8QR.
Tel: +44 1299 872210 Fax: +44 1299 872218
Email: [email protected]

Mainland Europe
Morgan Advanced Ceramics Sales, Teplitzerstr. 27, D-84478 Waldkraiburg, Germany
Tel: +49 8638 6004 326 Fax: +49 8638 6004 327
Email: [email protected]

North America
Morgan Advanced Ceramics Inc, 232 Forbes Road, Bedford, Ohio 44146 5418, USA
Tel: +1 440 232 8600 Fax: +1 440 232 8731
Email: [email protected]

Asia
Morgan Advanced Ceramics, 158 Jiajian Road, Jiading, Shanghai 201818, People's Republic of China.
Tel: +86 21 5990 0687 Fax: +86 21 5990 3241
Email: [email protected]