Press Force Sensors feature 3 calibrated measuring ranges.
Press Release Summary: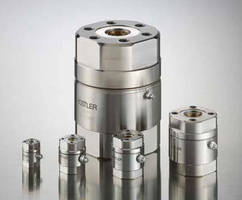 Type 9383A piezoelectric press force sensors feature calibrated measuring ranges of 0-3, 0-30, and 0-300 kN for measuring dynamic and quasistatic forces. Force acting on quartz element generates proportional electric change at output, which is converted by connected in-line charge amplifier into process signal. Unit features flange connections at both ends, centering rings for axial adjustment, and rotationally symmetrical shape makes it suitable for use at end of push rods or press plungers.
---
Original Press Release:

Kistler Extends Its Successful Series of Press Force Sensors



The well established Kistler press force sensors are based on the piezoelectric measuring principle. The force acting on the quartz element generates at the output of the sensor a proportional electric charge, which is converted by the series-connected measuring amplifier (such as ICAM Type 5073A...) into a process signal suitable for evaluation (typically 0 ...10 V).

The new sensor Type 9383A... extends Kistler's successful series of piezoelectric press force sensors. The sensor preloaded ready for mounting with the three standardly calibrated measuring ranges of 0 ... 3 kN, 0 ... 30 kN and 0 ... 300 kN is ideal for measuring both dynamic and quasistatic forces. Together with an in-line charge amplifier with range switching, such as the ICAM Type 5073A..., extremely wide force ranges can be represented with one and the same sensor - with consistent accuracy over the entire range. The sensor also offers tried and tested mechanical features with flange connections at both ends for easier interfacing with the machine environment, and centering rings for axial adjustment. The rotationally symmetrical shape makes the press force sensor perfect for use on the end of push rods or press plungers. Press force sensors from Kistler are available in different sizes and measuring ranges.

Kistler Group

Eulachstrasse 22 Tel. +41 52 224 11 11 ZKB Winterthur BC 732 IBAN: CH67 0070 0113 2003 7462 8

8408 Winterthur Fax +41 52 224 14 14 Swift: ZKBKCHZZ80A VAT: 229 713

Switzerland info@kistler.com Account: 1132-0374.628

ISO 9001 certified www.kistler.com 300-651e-12.09

Kistler Group

Kistler's core competence is the development, production and use of sensors for measuring pressure, force, torque and acceleration. Kistler's know-how and electronic systems can be used to prepare measuring signals for use in analyzing physical processes, controlling and optimizing industrial processes, improving product quality in manufacturing and improving performance in sports and rehabilitation. Kistler offers a comprehensive range of sensors and systems for engine development, automotive engineering, plastics and metal processing, installation technology and biomechanics.

A worldwide sales presence in the form of 25 group companies and 30 distributors ensures customer proximity, application support on an individual level and short lead times.

With a staff of about 1,000, the Kistler Group is one of the world's leading providers of dynamic measuring instrumentation. The Kistler Group achieved turnover of 215 million Swiss Francs in the 2008 financial year.

More from Controls & Controllers