Press-Fit Connector System addresses coplanar applications.
Press Release Summary: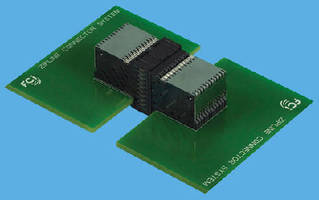 High-density ZipLine(TM) connector system includes right-angle signal header module, which is designed to mate with existing right-angle signal receptacle module. It provides 216 individual contacts and enables 72 high-speed differential connections between coplanar circuit boards. This adds to connector system's existing support for backplane and orthogonal midplane applications. Complementary high-power modules and guidance modules are also available.
---
Original Press Release:

FCI Extends the ZipLine(TM) Connector System to Coplanar Applications



ETTERS, PA (February 3, 2009) - FCI, a leading developer of connectors and interconnect systems, is expanding the application range of its popular high-density, highperformance ZipLine(TM) connector system with the addition of a right-angle signal header module. Designed to mate with an existing right-angle signal receptacle module, the new header module provides 216 individual contacts and enables 72 high-speed differential connections between coplanar circuit boards. Complementary high-power modules and guidance modules are also available.

"The ZipLine connector system already offered support for backplane and orthogonal midplane applications, but system designers also saw a need for high-density, high-speed connections to coplanar add-on cards used for system upgrades, memory expansion and test," said Jeff O'Brien, global product marketing manager. "By adding support for coplanar applications, FCI continues to enhance the product portfolio in response to the diversified needs of customers." Samples of the right-angle header for coplanar applications will be available midway through the second quarter of 2009.

The ZipLine connectors are the highest-density, press-fit connectors available and address the need for greater signal density in next-generation equipment platforms. The connectors provide 6 high-speed differential signal pairs per column on 1.8mm column pitch to deliver 84.6 differential pairs per inch of card edge. The compact module size allows for a minimum 1-inch card slot pitch and helps system designers address mechanical and thermal concerns.

ZipLine connectors use FCI's proven shield-less technology to deliver low insertion loss and crosstalk without using costly and space-consuming metal shields. Data rates can scale up to 12.5 Gb/s without requiring the redesign of a basic platform.

In addition to offering superior signal density and electrical performance, the versatile ZipLine design allows for mixed differential, single-ended or power pin assignments within a connector.

The ZipLine connector system has been chosen as a finalist for the 2009 DesignVision Award in the Interconnect Technologies and Components category. The winner will be announced at the upcoming DesignCon exhibition on February 3-4 in Santa Clara, California.

For more information on the ZipLine connector system, contact FCI at 825 Old Trail Road, Etters, PA 17319-7883; call 800-237-2374, email at zipline@fci.com or visit FCI on the web at www.fci.com/zipline.

About FCI
With operations in 30 countries and sales of 1.3 billion euros in 2007, FCI is a leading manufacturer of connectors. Our 14,200 employees are committed to providing customers with high-quality, innovative products for a wide range of consumer and industrial applications. For more information: www.fci.com

More from Thermal & Heating Equipment