Predictive Diagnostics System protects hydro turbines.
Press Release Summary: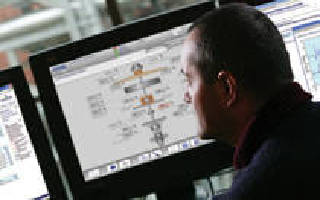 Using low frequency sensors with built-in signal filtering and conditioning, CSI 6500 Machinery Health Monitor measures vibration, temperature, and eccentricity of hydro machinery. When preset trip level is exceeded, protection system shuts down turbine, helping power plants avoid catastrophic failure and comply with safety, health, and environmental regulations. Predictive diagnostics enable personnel to identify potential issues and plan repairs before protection system is engaged.
---
Original Press Release:

Emerson Introduces Integrated Prediction and Protection System for Hydroelectric Turbines



New offering gives early warning of developing turbine problems, helping to reduce maintenance costs and improve safety



KNOXVILLE, TENN — Emerson Process Management has introduced an integrated predictive diagnostics and protection system that offers real-time monitoring to improve reliability for all major types of hydro turbines. The predictive diagnostics help maximize availability and reduce maintenance costs and the protection system helps hydro power plants avoid catastrophic failure and comply with safety, health and environment regulations.



Building on its experience in effective predictive monitoring technologies for steam and gas turbines, Emerson developed low frequency sensors with built-in signal filtering and conditioning for use with its CSI 6500 Machinery Health Monitor. By accurately monitoring measurements such as vibration, temperature, and eccentricity, the CSI 6500 captures meaningful data for every aspect of hydro machinery operation.



"We are applying our expertise with predictive diagnostics to hydroelectric turbines — giving users the ability to proactively address equipment issues before they impact performance or safety," said Nathan Pettus, vice president of Emerson's Machinery Health Management business. "This continues Emerson's commitment to offer the right products and solutions to give our users peace of mind about their critical assets."



The CSI 6500 and machinery health sensors provide continuous monitoring on hydro turbines and give instant notification of vibration alerts. When a preset trip level is exceeded, the protection system shuts down the turbine automatically, ensuring improved safety of plant personnel and preventing catastrophic machine damage. Just as importantly, predictive diagnostics from the CSI 6500 enable plant personnel to identify potential issues in the turbines such as cavitations or rotor imbalance and plan repairs before the protection system is ever engaged.



For facilities that require additional protection parameters, the CSI 6300 SIS Digital Overspeed Protection system protects equipment and personnel from damage caused by overspeed events.



About Emerson Process Management

Emerson Process Management (http://www.EmersonProcess.com), an Emerson business, is a leader in helping businesses automate their production, processing and distribution in the chemical, oil and gas, refining, pulp and paper, power, water and wastewater treatment, mining and metals, food and beverage, life sciences and other industries. The company combines superior products and technology with industry-specific engineering, consulting, project management and maintenance services. Its brands include PlantWeb™, Syncade™, DeltaV™, Fisher®, Bettis™, Micro Motion®, Rosemount®, Daniel™, Ovation™ and AMS Suite.



About Emerson

Emerson (NYSE:EMR), based in St. Louis, Missouri (USA), is a global leader in bringing technology and engineering together to provide innovative solutions for customers in industrial, commercial, and consumer markets around the world. The company is comprised of five business segments: Process Management, Industrial Automation, Network Power, Climate Technologies, and Commercial & Residential Solutions. Sales in fiscal 2013 were $24.7 billion.  For more information, visit http://www.Emerson.com.



Contact:

Kim Blizzard

Emerson Process Management

1 (865) 672-1052

Kim.Blizzard@Emerson.com

More from Construction Equipment and Supplies