Vision and Imaging Sensors / Detectors
Precision UV Sensor is composed of zinc oxide.
Press Release Summary: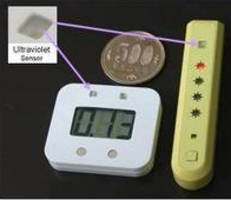 ZnO ultraviolet (UV) sensor makes it possible to detect UV rays based on frequency band, allowing user to obtain detailed information and take appropriate countermeasures against UV rays. No optical filter is required, and thin film made of zinc oxide (ZnO) material becomes transparent under visible light and opaque under UV rays. Control of absorption wavelength range based on specific material composition makes it possible to perform sensing at UV-A/-B ranges.
---
Original Press Release:

Ultra-Slim High Precision ZnO Ultraviolet Sensor



ROHM Co., Ltd. has recently announced the development of the ultraviolet sensor composed of zinc oxide (ZnO), making it possible to detect UV rays based on the frequency band. For example, separate measurements can be made for the two frequency ranges of UV-A (lambda=400-320nm), which are UV rays that darken the skin, and UV-B (lambda=320-280nm), which causes blistering and red sores. As a result, the user can obtain detailed information and take appropriate countermeasures against ultraviolet rays. In addition, no optical filter is required, allowing the sensor to be made extremely small.

The detrimental effects of ultraviolet rays to human health are well known, making the ultraviolet sensor market a rapidly growing segment. Conventional ultraviolet sensors were typically sheet-type sensors that change their color when hit by ultraviolet rays. Or silicon photodiodes are used. However, sheet-type sensors have poor precision and cannot be used repeatedly, while silicon photodiode sensors cannot extract and measure ultraviolet rays alone due to the absorption of the silicon itself in the visible light spectrum. A visible light filter is required, increasing overall size.

ROHM has recently applied silicon process technology to form a thin film made of a zinc oxide material, resulting in a sensor that takes advantage of the inherent physical properties of zinc oxide, which is relatively inexpensive, easy to procure, and possesses unique characteristics when exposed to light. It becomes transparent under visible light and opaque under ultraviolet rays. Plus it enables control of the absorption wavelength range based on the specific material composition (see Fig. 1). This makes it possible to perform sensing at particular wavelength ranges in a compact form factor, contributing to device miniaturization.

Pricing: TBD
Availability: 2010 (OEM Quantities)

More from Cleaning Products & Equipment