Precision Tube and Strip Experts Exhibit at MD&M Minneapolis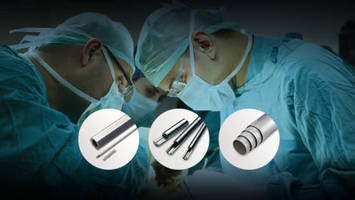 Superior Tube and Fine Tubes presented their range of precision medical-grade alloy tubes at the recent MD and M Minneapolis exhibition. The event hosted some of the leading medical OEM suppliers and is designed to showcase the new technologies and next generation medical devices that are set to transform the healthtech industry.



Having identified the medical market as a key area for future growth, US-based Superior Tube and UK-based Fine Tubes selected MDM Minneapolis as an ideal opportunity to meet engineers and procurement professionals as well as existing customers in the city which is home to many of the leading medical device businesses in the US.



Sharing a booth with sister AMETEK company Hamilton Precision Metals, manufacturers of metal strip and ultra-thin foil, Superior Tube and Fine Tubes exhibited their range of small diameter seamless, welded and Weldrawn® tubes for critical medical applications including coronary stents, heart valves, pacemaker cans and surgical instruments.



With over 70 years' experience in supplying precision tubes in an ever-expanding range of implantable grade stainless steel, titanium and other specialty alloys, Superior Tube and Fine Tubes work closely with prominent medical device manufacturers worldwide to help them solve their technical challenges.



The demand for high performance medical tubing offering excellent strength-to-weight ratios, high levels of microbiological corrosion resistance and fatigue life properties is constantly increasing. Fully compliant with all the leading tubing quality standards, Superior Tube and Fine Tubes have the technical capability to achieve an OD surface finish down to 16 µ in (0.4µ m) Ra or better with centreless grinding and an ID surface finish down to 8µ in (0.2µ m) Ra or better with electropolishing.



Exhibiting at MDM Minneapolis generated significant interest from a number of potential customers and business partners. As a result, in order to maintain their presence in the marketplace, Superior Tube and Fine Tubes are now giving serious consideration to exhibiting at the MD&M West show in Anaheim, California in February 2016.