Precision Pliers Bend, Crimp, Form & Hold Small Items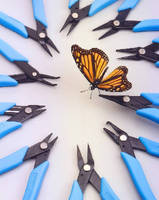 A full line of precision pliers that are offered with 10 different head styles for use in a wide range of electronics, industrial assembly and hobby, craft and jewelry applications is available from Xuron Corporation of Saco, Maine.

Xuron® Precision Pliers feature a selection of 10 specialized head styles for crimping and bending lead wires, bending and cutting applications in tight places, reaching into heavily populated PC boards, holding, bending and cutting, bending and shaping wire and thin metals, handling delicate parts, forming, looping and shaping wire, and opening split rings.

Constructed from high carbon steel with a glare eliminating black finish, Xuron® Precision Pliers have Light-Touch(TM) return springs and Xuro-Rubber(TM) cushioned hand grips. They include the Model 450 Tweezer Nose(TM) which can pick up a human hair, the 450BN Bent Nose which improves sight lines when working in tight spaces, and eight other specialty models.

A complete catalog and price list are available upon request.

More from Agricultural & Farming Products