Precision Instruments automate shaft and microscopy measurements.
Press Release Summary: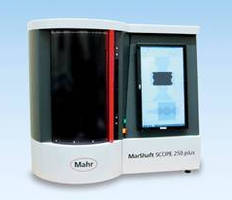 Providing automatic measurement of shafts and turned parts directly on shop floor, MarShaft™ SCOPE 250 optical shaft measurement system plus features matrix camera with 4 million pixels and measures parts up to 250 mm long and 40 mm dia. MPE (Maximum Permissible Error) is <1.5 microns + L/40 for diameter and 3 microns + L/125 for length. Also available, MarVision QM 300 video measuring microscope features automatic image processing and measures/dimensions geometric elements.
---
Original Press Release:

Mahr Federal to Feature New MarShaft SCOPE 250 Plus and MarVision QM 300 Video One-Shot Measuring Microscope With Image Processing At WESTEC 2015



PROVIDENCE, RI – Mahr Federal will feature the MarShaft™ SCOPE 250 plus, a new addition to their growing family of optical shaft measurement systems, and the MarVision QM 300 video measuring microscope with image processing capability, at WESTEC, September 15-17, 2015, Los Angeles Convention Center, Los Angeles, CA, Booth #1835.



Competitively priced and designed to provide fast, accurate, fully automatic measurement of smaller shafts and turned parts directly on the shop floor, the MarShaft SCOPE 250 plus features a highly accurate matrix camera with four million pixels. The system measures parts up to 250 mm in length and 40 mm in diameter with an accuracy that is previously unknown in this market segment. An MPE (Maximum Permissible Error) of less than 1.5 microns + L/40 when measuring diameter and an even more impressive 3 microns + L/125 when measuring length is significantly more accurate than other systems using line cameras.



The MarVision QM 300, a new video measuring microscope with image processing capability is designed for the measurement and/or dimensioning of geometric elements. With automatic image processing, part features can be stored and once the part is in place the QM300 will automatically recognize the part and make all the programmed measurements with no operator involvement. The MarVision QM 300 incorporates an integrated CCD color camera with a 23" touchscreen PC with keyboard and mouse, and easy-to-use Windows based M3 software. Automatic edge detection allows even low contrast features to be measured, and a multi-touch function provides quick and continuous measurements using either touchscreen or the mouse. The QM 300 is a full-featured measuring station designed for fast, close to the grinding machine evaluation of cutting inserts or flat components such as punch and stamped parts.



Also on display at Booth #1835 will be:



•  Mahr Federal's Millimar C1200, a new low-cost easy-to-view and easy-to-use Digital Amplifier. Incorporated in the C1200 is a new high resolution, high color contrast display that provides clear and very responsive analog readings with selectable scales. Users can view the analog scale, numeric digital readings, or both. Display range is ±5000 µm and reading resolution 0.1 µm. The display may be adjusted to the ideal viewing angle (0º to 90º) and the C1200 unit can also be wall-mounted.



•  The new Pocket Surf® IV, an updated version of Mahr Federal's highly popular Pocket Surf portable surface finish gage. Pocket Surf portable surface finish gages have enjoyed wide popularity for more than 30 years and across many precision applications because of their exceptional utility and simple one-button operation. The new Pocket Surf IV builds on that reputation with updated electronics and additional features to keep the product current for years to come.



In addition, the following Mahr Federal products will be on display:



MaraMeter mechanical comparative gages; wireless MarCal calipers with Marcom Software; Dimensionair air gaging; and selections from Mahr Federal's broad line of surface measuring instruments, including both portable roughness measurement devices and computer based stationary surface measuring systems. In addition to the new PocketSurf® IV, there will be the MarSurf® PS1 and a growing line of Application Specific surface measuring fixtures.



Mahr's stationary system line includes the MarSurf XR 1, which combines mobile surface metrology with the advantages of MarWin evaluation software; and the XCR 20 MarWin, a new generation of combined roughness and contour measurement systems.



Mahr Federal Inc., a member of the Mahr Group, has been providing dimensional measurement solutions to fit customer application needs for over 150 years. The company manufactures and markets a wide variety of dimensional metrology equipment, from simple and easy-to-use handheld gages to technically advanced measurement systems for form, contour, surface finish and length. Mahr Federal is also well known as a producer of custom-designed gages and a provider of calibration and contract measurement services. Mahr Federal's calibration laboratories are accredited to ISO/IEC 17025:2005 NVLAP Lab Code 200605-0 (see our Scope of Accreditation for accredited calibration processes). For more information visit http://www.mahr.com



For additional information, contact:

Marketing

Mahr Federal Inc.

1144 Eddy Street

Providence RI 02905 USA

Tel: (800) 343-2050 or (401) 784-3100

Fax: (401) 784-3246

Email: information@mahr.com

Web site: http://www.mahr.com

More from Computer Hardware & Peripherals