Rotary Positioning Stages / Tables
Precision Indexing Tables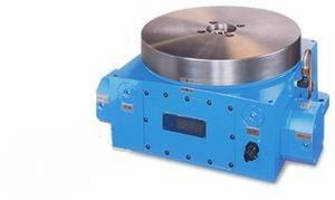 All of our Horizontal Indexing Tables and Vertical Faceplates are built with a 3-piece "Hirth" coupling which provides rigid locking, accurate positioning, heavy load carrying capacity and the non-lifting table top eliminates the contamination issue that is typical on many competitors indexing tables especially in flood coolant applications.



All are hydraulically clamped and unclamped and have sequential feed back switches.  The method of rotation can be either a rack and pinion with built-in pre-engineered and tamper proof cushions or via a servomotor drive with a dual lead worm gear that provides minimal backlash and low friction for high speed rotation, agility and the flexibility for applications requiring variable indexing requirements.



If your applications require an Indexing Table with a horizontal or a vertical table top, a size between 8" and 48" and you need the rigidity, accuracy, precision and the low maintenance to improve productivity, then a Hirth Coupling Table from Indexing Technologies should be considered.



More from Software