Precision Gear Reducers have compact, integrated design.
Press Release Summary: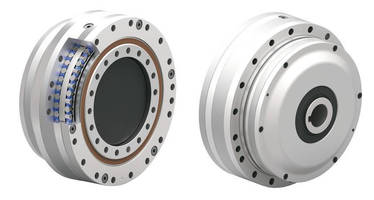 Maximizing torque-to-weight ratio and tilting rigidity, TwinSpin® G-series combines trochoidal gear arrangement with heavy-duty radial thrust bearing system each unit. This removes need for separate powertrain load support mechanics. Trochoidal gear contact profile provides ~50% simultaneous meshing, ensuring high torque transmission and backlash-free performance in precision motion control. There are 8 frame sizes with nominal ODs from 75–200 mm and rated torque from 34–950 Nm.
---
Original Press Release:

New Gear Unit Range Brings Increased Performance: Spinea's TwinSpin® High Precision Gear Reducer is Improved with New G-series



Slinfold, UK:  The recently announced new-generation TwinSpin® G-series high-precision reduction gear unit from Spinea s.r.o. is available in the UK from Heason Technology. As the result of several years' application experience and advances in manufacturing processes, the new gear reducer - with its integrated heavy-duty bearing system - offers significantly higher torque-to-weight ratio and greater tilting rigidity in addition to many other specification enhancements that will bring automation designers benefits such as smaller machine volumes, increased product quality, improved manufacturing precision and higher production throughput.



TwinSpin high precision reduction gear units combine a unique 'trochoidal' gear arrangement with a heavy-duty radial thrust bearing system that offers a space-saving single unit concept - removing the need for separate powertrain load support mechanics. The trochoidal gear contact profile provides almost fifty percent simultaneous meshing ensuring high torque transmission and backlash-free performance in precision motion control.  When compared to the existing TwinSpin gear reducer ranges, the new G-series design concentrates and advances on the innovative gear form with much reduced hysteresis and lost motion as well as lower friction which together translates into improved performance and accuracy. Furthermore, the bearing design improvements have resulted in a double-digit increase in the tilting rigidity throughout the torque range in addition to similar torque-to-weight ratio increases.



The new TwinSpin G Series is available in eight frame sizes with nominal outside diameter from 75 to 200 mm and with rated torque from 34 to 950 Nm. The face mounted unit is supplied in two variants, with sealed output only or as a fully sealed gear unit for direct connection with a motor. A wide choice of ratios is available in each frame size - typically six options are available between 45:1 and 135:1 for the 125 mm diameter unit.



The design improvements allows smaller, lighter and less complex machine design and extends the applications for the TwinSpin gear reducer that ranges from robotics and precision positioning actuators to machine tools and high throughput packaging machinery.



Heason Technology has integrated many TwinSpin gear reducers for its custom design-and-build service over almost ten tears of working with Spinea. These have included bespoke rotary actuators with Megaflux thin ring torque motors from another distribution partner – Allied motion Inc. These actuators make full use of TwinSpin precision gear reducers that are available with generous through-holes which can accommodate cables and other services in complex machinery installations. Other TwinSpin applications such as servo driven positioners for machine tool changers, automotive test stands, naval gun mounts, marine propulsion drives and rotating platforms with integrated slip ring assemblies for telecommunications systems are just a few examples.



Heason Technology represents a select number of leading global manufacturing partners, providing a comprehensive range of first-class motion control components that are combined with a full in-house design-and-build service for complete motion system solutions.



For company and technical information, please contact Jon Howard:

Heason Technology Ltd

Motion Solutions Centre

Spring Copse Business Park

Slinfold

West Sussex

RH13 0SZ

UK

Tel: +44 (0) 1403 792 300

Email:  jhoward@heason.com

Web:  www.heason.com

More from Architectural & Civil Engineering Products