Precision Crystals have low-profile, surface mount enclosure.
Press Release Summary: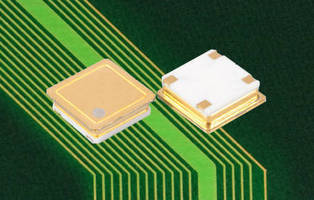 Assembled in vacuum for maximized Q values and phase noise, SMP-8 (8–130 MHz) and SMX (6–220 MHz) measure 8.0 x 7.2 x 2.3 mm, utilize braze seal, and can be made with custom specifications for precision SC cut, AT cut, and IT cut crystals. Heat transfer properties of 4-point mount make these products suited for OCXO designs. Additionally, thermal transfer properties and Q of SMX-8 can improve thermal perturbation levels. Options include high-temperature versions and internal thermistor.
---
Original Press Release:

Precision Low Profile Crystals from LapTech



Laptech's SMP-8 (8-130)MHz and SMX(6-220)MHz have a low profile SMD enclosure (8.0 x 7.2 x 2.3) mm and can be made with custom specifications for precision SC cut, AT cut and IT cut crystals. They utilizes a braze seal and are assembled in a vacuum resulting in higher Q values and therefore improved phase noise.



They have a four point mount with excellent heat transfer properties making them ideal for OCXO designs with a good vibration and low G sensitivity requirements. Additionally, the SMX-8 has excellent thermal transfer properties and a low Q which can improve levels of thermal perturbations. They can be ordered with a high temperature option, the SMP-8 up to 250C and the SMX-8 up to 300C.



SMP-8 and SMX crystals are ideally suited for use in satellite and data communication applications.



Uniquely there is the option of adding a thermistor internally. This improves the accuracy and speed of the thermal feedback circuit when used in a TCXO. The option also may have advantages in OCXO applications. The chip thermistor and wire combination allow thermal measurement in very close proximity to the crystal itself.



About Laptech Precision Inc.



Founded in 1972, the company, which is located in a 15,000 square foot facility in Ontario Canada, employs highly skilled personnel, its unique blend of products and services include precision quartz resonators supplied to oscillator manufacturers worldwide, quartz and alloy material fabrication to exacting parallel and optical polish standards and high precision OCXO, TCXO and VCXO oscillators manufactured by the parent company. Additionally a range of miniature smd oscillators purchased from qualified sources are provided to augment the group manufactured products.



The company is ISO9001:2008 and RoHS compliant and follows a programme of environmental management



Contact: sales@laptech.com



Copyright © 2016 *Laptech Precision Inc*, All rights reserved.



Our mailing address is:

Laptech Precision Inc.

230 Simpson Avenue South

Bowmanville,

Ontario,

Canada, L1C 2J3

More from Agricultural & Farming Products