Precision Assembly Press System has tabletop form factor.
Press Release Summary: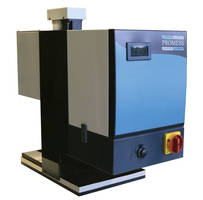 Available with press outputs from 1–12 kN, Table Top Assembly Press System comes with sensors, controls, MotionPRO software, and safety equipment and can be up and running in 30 min or less. Fully electric system provides clean, oil-free, low-noise solution for high-precision batch product assembly applications as well as joining, riveting, press fitting, clipping, and bending. Along with unlimited program storage capacity, features include 200 m/sec press speeds and rapid changeover.
---
Original Press Release:
Promess Introduces New Table Top Assembly Press System
Brighton, Mich. – Promess Inc. has introduced a new fully-electric, Table Top Assembly Press System designed for high-precision batch assembly applications.

Available with press outputs ranging from 1 to 12 kN, the Table Top Assembly System comes complete with sensors, controls, software and safety equipment to provide a virtual turn-key solution that can be up and running in 30 minutes or less.

"This system is designed to provide a clean, oil-free, low-noise solution for a broad range of operations," explained Promess president Glenn Nausley. "It's ideal for precision assembly of products like small valves and electrical/electronic components, but equally capable for precision joining, riveting, press fitting, clipping and bending and a whole spectrum of testing and monitoring applications. And, the ability to store an unlimited number of programs makes it easy to change parts, operations or even applications."

The Table Top system uses standard Promess MotionPRO software that supports:
• Programmable position and force commands and monitoring for 100 percent in-process verification
• Comprehensive data acquisition and storage
• Part serialization for complete traceability.

To provide maximum application flexibility the Promess Table Top Assembly Press System can accept input voltages ranging from 110 VAC single phase up to 480 VAC three phase. Productivity is enhanced by fast, 200m/sec press speeds and rapid changeover capabilities to support small-lot and batch assembly operations. Multiple units can be networked for centralized data storage.

"The Table Top system is extremely efficient," Nausley added. "It only uses energy when it's actually cycling, unlike a hydraulic or pneumatic press that needs a constantly running power unit. It also has a very small footprint that allows it to be used just about anywhere it might be needed."

Promess is a 30-year-old firm that develops, manufactures, and markets its family of sensing devices, electronics, assembly presses and test systems on a global basis.

For more information contact:
Douglas Drummond, National Editorial Services
nationaled@aol.com
More from Software