Precision Antibacklash Gears Available in Rugged Locknut Design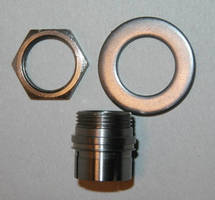 New Design Provides Long-Term Reliability

Jasper, FL - July 9, 2009 - Ascent Precision Gear Corporation announces the availability of precision, fine-pitch antibacklash gears with a new locknut-and-washer-style hub that positively retains the fixed gear, allowing for a stronger, more robust product. The locknut hub provides better long-term reliability and helps prevent gear separation during difficult installations.

Standard antibacklash gears generally retain the fixed gear to the gear hub with only a press-fit and staking. Our locknut hub is press-fit into the gear, and then held in place with a stainless steel washer and jam nut, eliminating the possibility of the gear coming off. With only a .140-inch (3.57mm) increase in length, these stronger gears can be utilized in most applications requiring precision antibacklash gears. Stocked up to 6 ½" diameter and AGMA quality 14, with custom sizes available.

Ascent Precision Gear Corp. is a quality-oriented manufacturer of precision antibacklash, spur, helical, and worm gearing, serving many industries including aerospace, defense, medical, optics, robotics, etc. Contact Chuck Murray at the above numbers for more information.


More from Mechanical Power Transmission