Precision Amplifier offers input bias current of 20 fA.
Press Release Summary: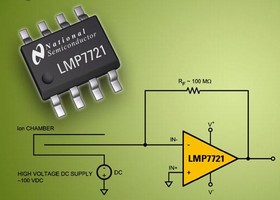 Operating at room temperature and over extended temperature range of -40 to 125°C, Model LMP7721 provides wide gain bandwidth of 17 MHz while consuming only 1.3 mA of current. It includes input voltage noise of 6.5 nV/sqrt Hz, dc offset voltage of ±150 µV max at 25°C, and offset voltage temperature coefficient of 1.5 µV/°C. Available in 8-pin SOIC package, device suits battery-operated portable applications and electrochemical sensor interface circuitry.
---
Original Press Release:

National Semiconductor Introduces Precision Amplifier with Lowest Guaranteed Input Bias Current



PowerWise LMP7721's Guaranteed 20 Femtoamperes Input Bias Current Produces Maximum Accuracy from Photodiode and High-Impedance Sensors

SANTA CLARA, Calif. - March 18, 2008 - National Semiconductor Corp. (NYSE:NSM) today introduced the LMP7721, a precision amplifier with the industry's lowest guaranteed input bias current (20 fA) at room temperature and over the extended temperature range of -40 degrees to 125 degrees C. The device yields maximum system sensitivity and accuracy from photodiode and high-impedance sensors and is well-suited for improving sensitivity and accuracy in battery-operated portable applications, as well as electrochemical sensor interface circuitry. As a member of National's PowerWise® family of energy-efficient products, the LMP7721 provides a wide gain bandwidth (GBW) of 17 MHz while consuming only 1.3 mA of current.

Compared to competitive amplifiers that suffer an exponential increase of input bias current over higher temperatures, National's proprietary VIP50 BiCMOS process technology enables the LMP7721's input bias cancellation circuitry to maintain its low input bias current. For example, the LMP7721 guarantees 900 fA at 85 degrees C, which is 50 percent less than the closest competitive device. Additionally, National provides a signal path solution for high-precision applications: Analog-to-digital converters (ADCs) such as the 12-bit ADC121S021and 14-bit ADC141S626 are optimized to work with the LMP7721.

Key Features of LMP7721 Precision Amplifier The LMP7721 precision amplifier provides 3 fA, with a guaranteed limit of 20 fA at 25 degrees C, 900 fA at 85 degrees C and 5 pA at 125 degrees C. The amplifier also maintains ultra low input bias current over its entire input common-mode voltage range, and its wide GBW along with high open-loop gain of 120 dB enables accurate signal conditioning. Additional features of the LMP7721 include low input voltage noise of 6.5 nV/sqrt Hz, low DC offset voltage of +/- 150 uV maximum at 25 degrees C and low offset voltage temperature coefficient of 1.5 uV/C to improve system sensitivity and accuracy.

The LMP7721 has a supply voltage range of 1.8V to 5.5V and is offered in an 8-pin SOIC package with a special pinout that isolates the amplifier's input from the power supply and output pins. This unique pinout further reduces system errors by preventing printed circuit board (PCB) leakage current from reaching the input pins. By using the LMP7721 in place of an amplifier and discrete dual-input MOSFET, system designers can realize PCB space savings of approximately 50 percent.

About National's Amplifier Portfolio

Specializing in high-performance amplifiers and comparators, National Semiconductor offers a complete portfolio of op amps addressing the high-speed, precision, low-voltage and low-power markets with products ranging from building-block ICs to application-specific standard products (ASSPs). The company has a long history of setting industry standards in amplifiers and continues this trend with product releases on National's advanced VIP10 bipolar and VIP50 BiCMOS processes. National also leads the industry in packaging technology with its revolutionary Silicon Dust(TM) and micro SMD packaging technologies. For more information on National's amplifier products, visit national.com/amplifiers.

Pricing and Availability

The LMP7721 is available now and priced at $4.95 each in 1,000-unit quantities. For more information and easy-to-order samples, visit www.national.com/pf/LM/LMP7721.html. National's Amplifiers Made SimpleSM WEBENCH® online design tool supports a large selection of amplifiers. To explore these solutions, visit webench.national.com. To learn more about designing with amplifiers, visit our library at http://national.com/onlineseminar/#amps.

About National's PowerWise Brand

National's PowerWise brand reflects the company's energy-efficient product portfolio. It signifies products with outstanding performance-to-power at the component level, as well as products that provide an outstanding, energy-efficient solution when coupled with other National parts. National's PowerWise family of products features energy-efficient power management, operational amplifiers, interface, and data conversion products. For more information about National's PowerWise brand, visit: www.national.com/powerwise.

About National Semiconductor

National Semiconductor, the industry's premier analog company, creates high-value analog devices and subsystems. National's leading-edge products include power management circuits, display drivers, audio and operational amplifiers, interface products, and data conversion solutions. National's key analog markets include wireless handsets, displays, communications infrastructure, medical, automotive, industrial, and test and measurement applications. Headquartered in Santa Clara, Calif., National reported sales of $1.93 billion for fiscal 2007, which ended May 27, 2007. Additional company and product information is available at www.national.com.

Contact Name: Mark Alden
Title: Public Relations Manager
E-mail: mark.alden@nsc.com

More from Electrical Equipment & Systems