PQC Series Power Supplies feature droop current share characteristics.
Press Release Summary: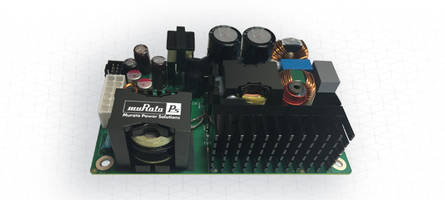 Available in 12V, 24V, 36V, and 48V versions, PQC Series Power Supplies feature less than 500mW standby power consumption. Housed in 3 x 5 in. 1U footprint, units are operated in 0°C to 50°C and up to 70°C (with derating) temperature range with 90Vac to 264Vac voltage range. Rated to 250 watts of output power, product comes with 4000 Vac input to output isolation and is suitable for ultrasound monitors, blood pressure monitors, incubators and ECG equipment.
---
Original Press Release:
Murata's Convection Cooled 250W AC-DC Power Supplies for Industrial & Limited Airflow Applications
Murata announces its new wide input range, single output PQC series of industrial/medical power supplies from Murata Power Solutions. Rated at 250 watts of output power in an industry-standard open frame 3 x 5 inch, 1U footprint, this high-efficiency design can deliver full power with free-air natural convection cooling up to 50°C. The PQC series features a universal AC input voltage range from 90Vac to 264Vac with any input from 47Hz to 63Hz. The highly efficient convection cooling design employs optimal thermal management and high power efficiency up to 95%.
The PQC series is currently available in 12V, 24V, 36V, and 48V, variants, each with a 5V standby as a standard feature. Additional output voltage variants are currently under development including 54V scheduled for a June 2017 release. Featuring remote enable, the PQC consumes less than 500mW of power in standby mode. These power supplies can continuously deliver full output power across the wide temperature range 0°Celsius to 50°Celsius and up to 70°Celsius (with derating).
These highly efficient power supplies carry medical, consumer, and ITE safety approvals and incorporate 2XMOPP (Means of Patient Protection) isolation. With an isolation of 4000 Vac (input to output) or 1500 Vac (input to PE), these units are ideal for powering equipment such as ultrasound monitors, blood pressure monitors, incubators, ECG equipment, and operating tables.
Where an application requires more power or redundancy, the droop current share characteristic enables two or more power supplies to operate in parallel to increase output current capability and flexibility.
The PQC250 complies with major international IEC/EN/UL 60950-1 safety standards and EMI to EN 55022, Class B.
The PQC's advanced design delivers an EMI performance to Level B conducted and radiated emissions.
Highlights & Features
IEC60601 Ed.3 medical (2 x MOPP Pri-Sec; 1 x MOPP Pri- Chassis Ground) IEC62368 (combined IEC60950 & IEC60065)
Features less than 500mW standby power consumption; designed to meet ENERGY STAR® program requirements for single voltage external AC-DC power supplies
True zero load operation of the Main (V1) output; no minimum load requirements; correct PWR_OK functionality maintained
3" x 5" industry-standard open frame footprint
High efficiency: Up to 95.0%
Designed to comply with IEC60601-1 4th Edition EMC Standard Requirements
250W compact high density; operation to 250W at +50°C
Min holdup time 16ms
Download the PQC250 data sheet http://power.murata.com/data/acdcsupplies/pqc250.pdf.
Contact details for publication: 
Murata Power Solutions, Inc., 
11 Cabot Boulevard Mansfield, MA 02048-1151, USA 
Tel: +1-508-339-3000 Fax: +1-508-339-6356 
e-mail: muratapr@murata-ps.com
About Murata Power Solutions
Murata Power Solutions (www.murata-ps.com) is headquartered in Mansfield, Massachusetts, with over 1,300 employees worldwide. Murata Power Solutions designs, manufactures and distributes DC-DC Converter, AC-DC Power Supply, Magnetic and Digital Panel Meter product lines, and offers these products in custom, standard and modified-standard variations. Murata Power Solutions products are typically used within electronic applications serving major global market sectors including telecommunications, computing and industrial controls. 
Murata Power Solutions is a division of Murata Manufacturing Co., Ltd. (www.murata.com), a worldwide leader in the design, manufacture and sale of electronic components and power supply modules. Murata's devices are found in a wide range of applications including consumer and automotive electronics, and wireless devices. The company has employees and manufacturing facilities throughout the world.
More from Controls & Controllers