PPED Series Hydraulic Press Brakes From LVD STRIPPIT feature TOUCH-B graphical icon-driven CNC controller.
Press Release Summary: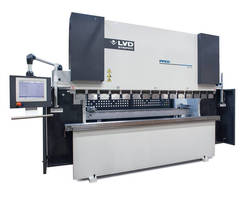 Presented as PPED-4, PPED 6 and PPED-7 with 2 or 4 backgauge axes, PPED Series press brakes with LVD precision are suitable for a wide range of bending jobs. Combining multi-axis backgauge with LVD's TOUCH-B CNC control, PPED enables the operator to create designs in 2D and simulate in 3D on the 15" touch screen. TOUCH-B is compatible with CADMAN-JOB and CADMAN-B. With bending lengths starting from 3 meters, PPED is available in 50 to 320 metric tons with bend lengths from 78" to 157".
---
Original Press Release:

LVD Strippit Introduces New PPED Series Press Brakes



LVD Strippit introduces a new range of press brakes to its bending product line. PPED Series hydraulic press brakes feature a multi-axis backgauge, CNC crowning system, and a 15" version of LVD's exclusive TOUCH-B graphical icon-driven CNC controller. Combined, these machine features provide users with greater flexibility and enhanced capability for a variety of bending applications.



MORE VERSATILE BENDING



A cost-efficient design married with LVD precision and reliability delivers true application flexibility. Practical and easy to use, PPED Series press brakes are ideal for a wide range of bending jobs. Their rigid construction and servo-controlled hydraulic system ensure consistent bending results no matter the application. The PPED Series offers three models (PPED-4, PPED 6 and PPED-7) with either two (X, R) or four (X, R, Z1, Z2) standard backgauge axes. A multi-axis backgauge makes the PPED highly versatile and reduces machine setup time across simple to complex bending jobs.



INTUITIVE CONTROL - HIGHER PRODUCTIVITY



The multi-axis backgauge combined with LVD's TOUCH-B control makes higher productivity possible. This user-friendly touch screen CNC control minimizes operator input and makes part programming easy and intuitive. With minimal input, the operator can create designs in 2D and simulate in 3D on the 15" touch screen. Dimensions are simply keyed into the controller or the part program is recalled from storage. Users can also work with standard and custom parametric programs for rapid programming. TOUCH-B works with the centralized database and is compatible with CADMAN-JOB and CADMAN-B.



CNC CROWNING



The PPED-7 model in bending lengths from 3 meters and up is equipped with a crowning system as standard. Sheet thickness, bend length, punch radius, die opening and material data are entered into the TOUCH-B control to determine the amount of crowning required to compensate for bed and ram deflection. LVD's proprietary design creates a perfect 'crown' using accurately machined contact wedges that are moved against each other under servo control. The PPED is available in different models from 50 to 320 metric tons, bend lengths from 78" to 157" (2000 to 4000 mm). For more information, visit www.lvdgroup.com. ABOUT LVD The LVD Group is a leading manufacturer of a comprehensive range of sheet metal/plate working machine tools and software solutions, including laser cutting systems, punch presses, press brakes, guillotine shears and mid-level automation systems, integrated and supported by its CADMAN® PC-based Windows® compatible software.



For more information, contact Strippit, Inc.

12975 Clarence Center Road,

Akron, NY 14001,

USA. Tel. (716) 542-4511,

Fax (716) 542-5957,

e-mail: marketing@strippit.com or www.lvdgroup.com.



FOR MORE INFORMATION, CONTACT:

Tony Marzullo,

Product Manager,

Press Brakes

Tel. 716-542-4511

Strippit, Inc. E-mail: tmarzullo@strippit.com

Related