PowerTrack LED System uses TwistLock connectors.
Press Release Summary: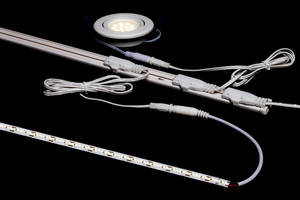 PowerTrack LED System is offered in 1 m lengths. Unit accepts input voltages of up to 24 Volts DC. Product comes with PowerTracks connectors and is equipped with two long power conductors. PowerTracks enable user to connect LED lights in a single track.
---
Original Press Release:
Environmental Lights Introduces the PowerTrack System
New modular, UL-recognized, low-voltage LED power delivery system
Environmental Lights, a leader in LED lighting solutions, announced the launch of the PowerTrack System, an affordable and dynamic UL-recognized solution for distributing low-voltage power to LED lighting.
The PowerTrack System is a modular power delivery system that reduces the amount of wiring needed by simplifying the distribution of power to LED lights. PowerTracks deliver power along a single track, which allows users to connect multiple LED lights to it easily at any point using the convenient TwistLock connectors. Its simplicity and ease of installation makes it an ideal solution for retail display and exhibit lighting.
"The PowerTrack System is a huge step forward for LED lighting in retail and exhibit displays," said Keith Zeber, Vice President of Sales at Environmental Lights. "The flexibility to run multiple lights quickly and easily, while improving power cable management, all in a cost-effective solution is a game changer."
The PowerTrack System is comprised of two main elements: PowerTracks and TwistLock connectors. PowerTracks are low-profile tracks with two long power conductors running lengthwise along the inner channels of the track. TwistLock connectors provide the flexibility to plug lights in anywhere along the length of the PowerTrack.
The PowerTrack System works with input voltages of up to 24 Volts DC and comes in 1 meter lengths. It is available for sale exclusively on EnvironmentalLights.com.
About Environmental Lights
Environmental Lights was founded in 2006 in San Diego, California, and has been listed on the Inc. 5000 as one of the fastest growing private companies in America for five years in a row. We transform environments with LED lighting technology by engineering our customers' visions into innovative solutions. We partner with our customers from project inception, through planning, specification and installation of their LED lighting systems to ensure we create solutions that match their exact needs. Our work transforms environments in an array of industries including retail display, entertainment, trade show/exhibit, hospitality and casino gaming.
Learn more at EnvironmentalLights.com or by talking with a sales engineer at (888) 880-1880.
Contact:
Michael Krupinsky
Marketing Director
Environmental Lights
Web Site: http://EnvironmentalLights.com
More from Electrical Equipment & Systems