POWERTRAC® Selected by SSI Magazine as One of Their Top 30 Products for 2008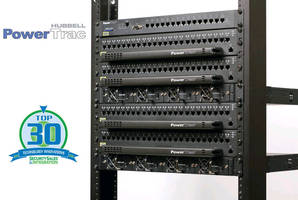 POWERTRAC® was recently honored by the editors of Security Sales and Integration Magazine by selecting it as one of their Top 30 product picks for 2008.

The POWERTRAC® system utilizes a modular architecture to ensure the most cost effective product configurations are deployed for the specific application. Whether it is simple PoE, Managed PoE, or Asset Management, the appropriate POWERTRAC® components can be deployed when, where and as needed to ensure the quickest deployment and most cost effective management of the latest IP technologies and appliances: VoIP phones, Wireless Access Points (WAPs), IP surveillance cameras, IP clocks, and Intelligent Building Access and Control systems.

Product Benefits and Features
o Asset Management provides intelligent tracking, managing, and securing of company assets.
o Company assets can be, but do not have to be networked IP appliances.
o Devices can be tracked even when they are not being powered.
o User defined policies ensure that the required alerts are provided to pagers, cell phones, and e-mail addresses for the unauthorized connection, disconnection, or removal of assets.
o Electronic ID keys can be assigned to technicians, to ensure that only these authorized technicians perform adds, moves, and changes.
o Database information can be used to develop up-to-date equipment inventory lists, track lease expiration dates, and maintain records of obsolete equipment.

o Supports full PoE power to all ports for applications powering IEEE 802.3af1compliant devices.

o Advanced PoE Power Management features allow users to remotely:
o Enable, disable, and cycle PoE power for a port or all ports on a panel.
o Set service level priorities.
o Set the maximum output power level for a port (five (5) levels are available)

o 20 watts is maximum output level

o Advanced PoE Power Management parameters can be set by using a Graphical User Interface (GUI) or SNMP v1/v2c/v3.

o An external Power Supply Chassis helps maximize uptime and minimize MTTR.
o One chassis can be equipped with up to three (3) 350W/48V power supplies to provide the required level of redundancy or for additional power. The 350W/48V power supplies are required for PoE applications.
o One chassis supports the powering of two (2) patch panels (48-ports).
o Power supplies are easy to access and replace if necessary.

o The POWERTRAC® patch panel provides true Category 6 (10GbE) performance2 and minimizes total cost of ownership (TCO).
o The patch panel form factor reduces cabling and is easily installed.
o Patch panels are typically kept in the network longer than switching equipment that may be changed out over time to increase transmission speeds or provide other new functionality.

The features and benefits outlined above are based on various product configurations.

1 The IEEE 802.3-2005 section 33 supersedes and incorporates the contents of 802.3af. References to 802.3af are used solely for convenience and consistency with existing specifications and documentation.

2 10GbE performance per TSB-155.

For more information,
please contact:
Hubbell Premise Wiring,
14 Lords Hill Road,
Stonington, CT 06378;
Tel: (800) 626-0005;
Or
visit: www.hubbell-premise.com.

Hubbell Premise Wiring is a subsidiary of Hubbell Incorporated (A Delaware Corporation).