PowerStroke 7000 Watt Portable Generator features KOHLER ECH440LE engine.
Press Release Summary: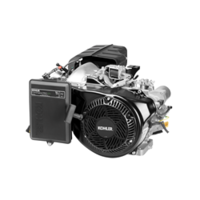 PowerStroke 7000 Watt Portable Generator's engine comes with closed-loop EFI system which uses oxygen sensor. Unit's EFI sensor is used to monitor amount of fuel injected and helps to adjust fuel level. Product's engine is equipped with integrated catalytic exhaust system and is suitable for low-emission applications.
---
Original Press Release:
Low Emission KOHLER® EFI Engine Brings New Benefits to PowerStroke Portable Generator from Techtronic Outdoor Products
Techtronic Outdoor Products, a division of TTI, has selected the KOHLER® ECH440LE engine to power a newly-updated version of its popular PowerStroke® 7000 watt portable generator
The new PowerStroke generator, which will now offer end users the benefits of lower emission outputs, debuted at GIE+EXPO 2017, the largest U.S. trade show for equipment in the outdoor power, lawn and garden and light construction categories.
"We're proud to feature the KOHLER ECH440LE low emission engine in our revamped PowerStroke 7000 watt portable generator," said Michael Gardner, vice president of new product development for TTI. "This inventive engine significantly reduces emissions – including Carbon Monoxide (CO) and Nitrogen Oxide (NOx) without sacrificing engine performance. We believe our customers are going to respond very favorable to this beneficial new technology."
The ECH440LE engine features Kohler's closed-loop EFI system, which is specifically calibrated for low-emission applications. The engine's integrated catalytic exhaust system, in combination with its closed-loop system, help to lower harmful emissions. Different engine applications require a review to help pinpoint the exact EFI calibration and catalyst required to decrease emission output.
In addition to reduced emissions, the ECH440LE engine offers the benefits of Kohler's EFI technology, including improved power and enhanced reliability. Kohler's EFI technology utilizes an oxygen sensor in the engine's muffler, which continuously monitors the amount of fuel injected and adjusts fuel levels as necessary to optimize performance. EFI engines also offer automotive-like turnkey starting and the elimination of carburetors and their associated maintenance.
"Our engineering team is always looking for ways to reduce emissions while also improving overall engine performance and the ECH440LE is a great example of Kohler's leadership in this area," said Ben Marotz, marketing manager for KOHLER Engines. "We're excited about the new PowerStroke generator and eager for its official rollout later this year."
The PowerStroke 7000 watt portable generator featuring the KOHLER ECH440LE low emission engine is anticipated to be available in the fourth quarter of 2017. For additional product information, or to inquire about dealer or retail channel availability, please call 1-877-617-3501.
About TTI
TTI is a world-class leader in design, manufacturing and marketing of power tools, outdoor power equipment, and floor care and appliances for consumers, professional and industrial users in the home improvement, repair and construction industries. To learn more about the company or its well-known brands, please visit http://www.ttigroup.com.
About KOHLER Engines
KOHLER has manufactured engines for more than 90 years and has continually enhanced its product lineup in an effort to help make life easier and more profitable for end users around the globe. Today, the company offers a full array of gasoline, diesel and gaseous-fueled engines – up to 134 hp. – which are supplied to equipment manufacturers worldwide in the lawn and garden, commercial and industrial, agricultural and construction markets.
Related