Powered Hydraulic Cadaver Carrier moves without manual effort.
Press Release Summary: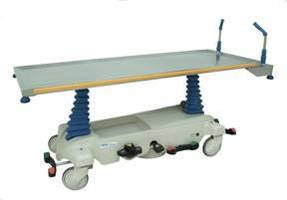 With battery-operated, motorized base, JA800 Powered Hydraulic Cadaver Carrier navigates corners, ramps, and doors. Safe movement without manual force eliminates back and body strain for any operator transporting up to 700 lb loads. Along with ergonomically placed activation/speed control grips, features include aluminum frame with heavy-duty vinyl cover, end to end tilting, and 11 in. elevation range. Aligning mechanisms and large diameter casters are impervious to embalming chemicals.
---
Original Press Release:

A Light Touch Operates the Mopec Hydraulic Cadaver Carrier



'Featuring IntelliDrive® Technology'



OAK PARK, Mich. – Mopec has developed a powered hydraulic cadaver carrier capable of transporting up to 700 pounds with a simple light touch. Powered by a battery operated motorized base, the Mopec JA800 Powered Hydraulic Cadaver Carrier effortlessly navigates corners, ramps and doors as it safely moves without manual force - allowing even the smallest operator to transport effortlessly, free from back and body strain.



Ergonomically placed activation grips incrementally control speed and immediately stop cart movement upon quick release. An advanced braking system gives the operator the ability to apply and lock brakes concurrently from all sides.



Designed to alleviate worker injuries associated with cadaver transport, the Mopec JA800 features end to end tilting and has an elevation range of 11-inches, providing maximum comfort for operators of various sizes. A manual foot-pedal hydraulic pump conveniently activates height adjustments.



"The Mopec JA800 was engineered to confront and eliminate the significant challenges that arise with cadaver transport," said Mopec CEO Jane VanDusen. "Our new powered cadaver carrier accommodates up to 700 pounds, while keeping technicians comfortable and safe in their working environment."



Featuring a 12-hour battery life, the Mopec JA800 is easily charged from a standard outlet with attached cord and can be left plugged in without the worry of overcharging.



A lightweight aluminum cadaver carrier frame with a heavy-duty vinyl cover permits discreet transportation from hospital room to morgue. Aligning mechanisms and large diameter casters - impervious to embalming chemicals, make steering easy, while maneuverability is enhanced by a fifth wheel. The cadaver carrier can be manually operated if warranted.



About Mopec

Mopec designs and manufactures customized equipment for the pathology, anatomy, mortuary and necropsy industries. Headquartered in Oak Park, Michigan and distributing globally, all engineering and manufacturing is completed in-house at its U.S. headquarters. Mopec's regional office in Europe interacts across time zones to assist international customers. For more information visit: www.mopec.com



Catherine Ticer

Brilliance Marketing

248-514-1441

catherineticer@comcast.net

More from Electrical Equipment & Systems