Power with Precision Sensors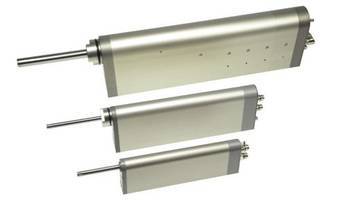 Following the successful market launch of the PR02-52 linear rotary motors, the larger representatives of this product family are now in the starting blocks. Like their smaller counterparts, the PR02-88 motors are optionally equipped with a fully integrated torque measuring shaft and an internal force sensor. These integrated features have proved to be successful since their initial release in the smaller PR02-52 models.
With the introduction of the PR02-88 family of linear motors, the PR02 family increases its maximum stroke length up to 300mm. This allows applications such as closing trigger and pump spray bottles to be optimally covered. Since both the maximum linear force and rotative torque have been increased with the introduction of this series, this motor family is the right choice in the field of assembling parts and closures with higher torque and force requirements.
Like the rest of the PR02 product family, the motors responsible for the linear stroke and rotary motion for the PR02-88 motors, as well as other additional components, are all integrated within a slim housing. With additional integrated options selected, the customer receives not only the drive motors, but also the internally installed torque measuring shaft and force sensor, as well as a magnetic spring. In vertical applications, the accordingly named MagSpring® ensures that the downward force of the moving load caused by gravity is passively compensated and prevents the axle from lowering in the current-less state. The torque and force sensors enable precise, reproducible and recordable capping and assembly processes such as those required in the pharmaceutical industry.
The PR02-88 family has endured extensive field testing and is now available. The PR02-38 will go into series production in 2020. This motor type has the smallest dimensions of the complete PR02 product family and is perfectly suited for lighter pick and place, capping, bending, or press-on operations.
Contacts:
LinMot USA
LinMot USA, Inc.
N1922 State Road 120, Unit 1
Wl, 53147, Lake Geneva
USA
Tel: +1-262-743-2555
Web: www.linmot.com
Email: [email protected]
LinMot Europe
NTI AG - LinMot & MagSpring
Bodenaeckerstrasse 2
CH-8957
Spreitenbach
Schweiz
Tel.: +41(0)56 419 9191
Fax: +41 (0)56 419 91 92
Email: [email protected]