Power Technology Inc., Honored by Laser Focus World 2018 Innovators Awards Program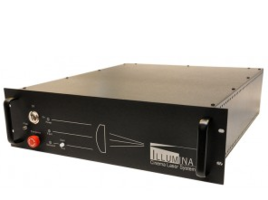 Little Rock, AR – OEM laser module manufacturer, Power Technology, announced today that its Illumina Cinema Laser System was awarded a Silver Innovator's Award by the judges of the annual Laser Focus World program. 
The Illumina Laser System replaces Xenon lamps with RGB laser illumination. According to Power Technology, the greatest challenge currently facing projector manufacturers is delivering more brightness on the screen at an economical price. The limitations of xenon bulbs have contributed to the decay of audience attendance and screen size growth. With 20X the lifespan of bulbs, the Illumina Cinema Laser System eliminates the continual bulb replacement expenses while maintaining 80% of original brightness over 10 years. This saves thousands of dollars over a projector's lifetime, while providing brighter and more engaging experiences to a greater number of ticket-buying customers.
"While customer satisfaction is the ultimate arbiter of a product's value, being recognized by our peers in the photonics industry is a great honor," said Walter Burgess, VP of Engineering and Sales at Power Technology. "It reflects the hard work and expertise of our engineers in creating innovative and market-read lasers."
Alan Bergstein, publisher of Laser Focus World (www.laserfocusworld.com), said "This prestigious program allows Laser Focus World to celebrate and recognize the most innovative products and services in the photonics and optoelectronics industry. Our 2018 Honorees are an outstanding example of companies who are making an impact." 

The Innovators Awards are judged based on the following criteria:
Innovation 
Value to the User 
Sustainability
Meeting a Defined Need 
Collaboration 
Impact 
The 2018 Laser Focus World Innovators Awards Honorees are featured in the May Issue of Laser Focus World magazine as well as on www.laserfocusworld.com.
About Laser Focus World
Published since 1965, Laser Focus World - a monthly magazine for engineers, researchers, scientists, and technical professionals - provides comprehensive global coverage of optoelectronic technologies, applications, and markets. Of over 80,000 qualified optoelectronics professionals from around the world currently subscribe. The Laser Focus World brand includes the magazine, website (laserfocusworld.com), email newsletters, and webcasts. As well as, the sister brands, Industrial Laser Solutions and BioOptics World.
Laser Focus World 2018 Innovators Awards program
The Laser Focus World Innovation Awards celebrates the most innovative applications of photonics, optoelectronics and precision optics products and systems. Awards are presented to organizations that demonstrate excellence in the use of a product, system, or application. Designers, integrators, and users of laser, optics, and photonics systems may nominate their own projects or applications, or integrators or distributors that supplied products or systems can nominate exceptional projects for consideration.
About Power Technology
Power Technology, Inc., established in 1969, is a leading manufacturer of lasers for OEM cinema, analytical, biomedical, industrial, semiconductor inspection, defense & security, and machine vision applications. For more information about Power Technology, visit the company's website at www.powertechnology.com
For more information contact:
Kris Hesson
Director of Marketing
khesson@powertechnology.com
501.407.0712 x255
More from Sensors, Monitors & Transducers