Power Supply works with heat treating equipment.
Press Release Summary: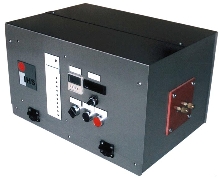 Benchtop solid state UNIPOWER provides up to 10 kW of power for hardening, forging, tempering, brazing, soldering, and bonding applications. Quick change inductor coil disconnects power and cooling circuits simultaneously. It has high speed fuses for fault protection, 0.95 input power factor under all operating conditions, and ±2% accuracy with ±10% line voltage variance. It requires 3 phase, 480 V input power and cooling water supply.
---
Original Press Release:
Affordable Compact Power Supply for Heat Treating

The UNIPOWER solid state power supply is a bench-top system that is user friendly for applications such as: heating for hardening, forging, tempering, brazing, soldering, bonding, and more. The unitized single module system has a quick change inductor coil that disconnects power and cooling circuits simultaneously.

Ratings vary with application and duty cycle requirements; however, the system is rated at 6 kW under full duty cycle conditions. For many applications, such as hardening, the output is 10 kW. Cooling requirements vary from 2 to 4 gpm depending on application.

UNIPOWER systems incorporate many features normally found in larger power supplies including high speed fuses for fault protection, 0.95 input power factor under all operating conditions, and a +/- 2% accuracy with +/- 10% line voltage variance for precise power settings and reliability.

It is shipped ready to operate, requiring only a 3 phase, 480 volt input power and cooling water supply.

This unit can also be customized to application requirements by adding an optional remote meter/operator panel, external heat command input and one of a variety of water cooling systems.

5009 Rondo Drive; Fort Worth, Texas 76106; TEL (817) 625-5577; FAX (817) 625-1872

More from HVAC