Power Supply Transformers have optimized core configurations.
Press Release Summary: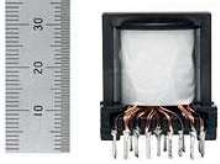 Transformers utilize core materials and configurations optimized for specific applications. Featuring elliptical cores, multiple output transformers SRW2420EG and SRW2425EG measure 30 x 28 x 25 mm and 30 x 28 x 30 mm, produce 25 and 30 W output, and feature 25 and 35 kHz flyback operating frequency, respectively. Of the same type, low-profile SRW33EX measures 36 x 42 x 23 mm and features 65 V output and 40 kHz flyback operating frequency.
---
Original Press Release:
TDK Launches New Power Supply Transformers with Optimized Core Configurations

Compact Sizes Up to 30% Smaller than Earlier TDK Products

The new product is approximately 25% smaller.

April 18, 2005

TDK Corporation announced today it will begin sales at the end of May 2005 of a new series of compact, low-cost power supply transformers designed for a wide range of different applications. TDK optimized the core materials and configurations used in standard power supply transformer components according to the application.

TDK performed a major overhaul of its power supply transformer products, creating new transformers that are up to 30% more compact and that require up to 20% less mounting space than earlier products with the same output. In order to create transformers optimized for specific applications such as AC adaptors and various types of audio-visual devices, TDK developed and adopted new technologies including new core configurations and thinner cores. TDK has applied for six different patents and design registrations with respect to the new core and bobbin configurations.

In order to make the transformers smaller, TDK selected core materials optimized for specific applications and adopted innovative core configurations, resulting in substantially lighter-weight cores. This series of transformers can be used in a variety of application devices that require low-profile shapes, compactness, and low-heat generation and will contribute to smaller and lighter-weight devices.

The new of transformers will be on display at the TDK booth at the Techno-Frontier 2005 show that will open at the Nippon Convention Center (Makuhari Messe) on April 20.

Main Applications

AC adaptors, battery chargers, DC-DC converters, audio-visual devices, inverter household appliances, LCD televisions, plasma display panel televisions.

Main Features

Compact and Lightweight

TDK adopted different approaches for reducing size and weight according to the transformer applications. By conducting extensive magnetic circuit simulations, TDK was able to adopt revolutionary elliptical cores in multiple output transformers (such as those used in DVD players, air conditioners, and other consumer electronics), reducing both the core and transformer body volume and weight and cutting mounting area by 22.5% and volume by 27.0%. In addition, by investigating optimal bobbin terminal core opening shapes and reducing the core thickness, TDK has minimized the weight of cores used in single output transformers.

Main Properties

Transformer Application Product Dimensions (mm) Change in Core Volumes(compared to earlier products) Output (W) Operating Frequency(kHz) Operating Frequency(kHz)

Multiple output transformer SRW2420EG 30x28x25 -27% 25 25 Flyback

Multiple output transformer SRW2425EG 30x28x30 -27% 50 35 Flyback

Low-profile multiple output transformer SRW33EX 36x42x23 -20% 65 40 Flyback

Production and Sales Plan

Mass production to start at the end of May 2005.

For further information, contact Mr. Koike in the Corporate Communications Tel.: 81-3-5201-7102
More from Communication Systems & Equipment