Power Sources support DC regenerative sink option.
Press Release Summary: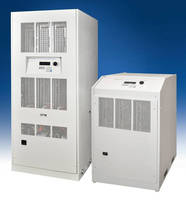 With installed AC sink and optional ability to sink DC current, California Instruments RS and MX Series power sources lets users source and sink both AC and DC currents at up to 100% of source's rated output power. When sinking, current is regenerated and returned to electrical grid and thereby reduces operating expense of electricity. DC sink application, for example, simulates batteries connected to bidirectional converter in hybrid electric vehicle motor drive systems.
---
Original Press Release:

AMETEK Adds DC Regenerative Sink Option Capability



Power Sources and Grid Simulators Can Now Sink and Regenerate DC and AC Current Back to the Electric Grid Significantly Reducing Operating Costs



SAN DIEGO, CA — AMETEK Programmable Power, the global leader in programmable AC and DC power test solutions (programmablepower.com), has added the ability to sink DC current to its California Instruments' RS and MX Series Power Sources



The addition of this option to an RS or MX Series power source with AC Sink installed allows users to source and sink both AC and DC currents at up to 100 percent of the source's rated output power. When sinking current, the current is regenerated and returned to the electrical grid reducing the operating cost of electricity.



There are many applications for sinking AC current, such as the prevalent need to regenerate current back to the electrical grid while testing grid-tied inverters. A common DC sink application, among others, is to simulate batteries connected to a bidirectional converter in hybrid electric vehicle motor drive systems.



When purchasing a new RS or MX Series power source, customers can purchase the SNK option to sink only AC current, the SNK-DC option to sink only DC current, or both options for ultimate versatility. Upgrading an existing RS unit can be done by AMETEK, depending on the age of the unit.  Consult factory for further details.



About AMETEK Programmable Power

AMETEK Programmable Power designs, manufactures and markets precision, AC and DC programmable power supplies, electronic loads, application specific power subsystems, and compliance test solutions for customers requiring and valuing differentiated power products and services. It offers one of the industries' broadest portfolios of programmable power products under the Sorensen, Elgar, California Instruments and AMREL brands.



For more information on any of AMETEK's programmable power supplies and programmable loads, contact an authorized AMETEK Programmable Power sales representative by visiting programmablepower.com/contact/. You can also contact AMETEK Programmable Power directly toll free at 800-733-5427 or 858-458-0223, or by email: sales.ppd@ametek.com.



AMETEK Programmable Power is a business unit of AMETEK Electronic Instruments Group, a leader in advanced instruments for the process, aerospace, power and industrial markets and a division of AMETEK, Inc., a leading global manufacturer of electronic instruments and electromechanical devices with 2014 annual sales of $4.0 billion.



For further information contact:

Craig Frahm

Tel: (858) 678-4459

E-mail: craig.frahm@ametek.com

Website: www.programmablepower.com



Programmable Power RS and MX Series Power Sources

More from Packaging Products & Equipment